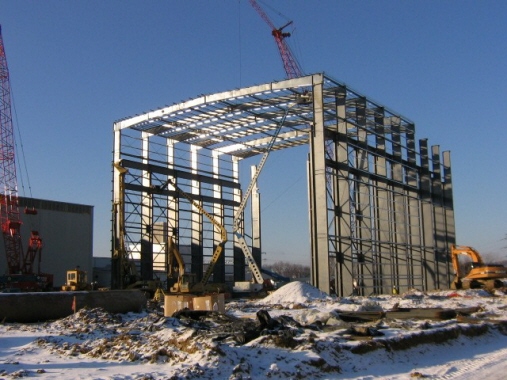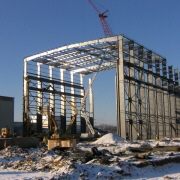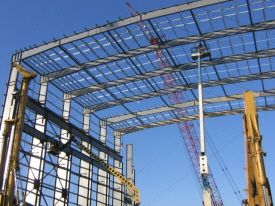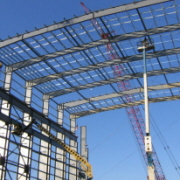 Curtis Wright better resolution


Curtiss-Wright Electro-Mechanical Corporation Manufacturing Plant, Cheswick, PA
High Steel teamed with Butler Heavy Structures on the 48,000-square-foot Curtiss-Wright Electro-Mechanical Corp.'s $62 million manufacturing plant in Cheswick, PA.
Formerly a unit of Westinghouse, Curtiss-Wright manufactures reactor coolant pumps for nuclear reactors and other products. The company, which is in a high growth mode, has been awarded the Westinghouse contract for four Generation II reactor coolant pumps and pump seals for the Tennessee Valley Authority.
The manufacturing plant was designed by Butler Heavy Structures, and had some unique challenges to be met. The critical requirement of the Curtiss-Wright building was a 300-ton crane capacity. In order to handle this capacity, Butler Heavy Structures designed 90-foot stepped columns. The outside flange is a flat plate that runs continuously to the steel rafters. The inside flange is a wide flange section that stops at the crane rail level. In all, High Steel fabricated 610 tons of steel for these heavy framing members and crane girders.
The tight schedule, which required precise phasing, was a challenge that High Steel met. High Steel was able to expedite the project and remain flexible. Another plus was location. Just over three hours from the erection site outside Pittsburgh, the 90-foot stepped columns could be shipped from High Steel in one piece.
Project Specs
Structure Type: Pre-engineered Steel Building System
Steel Tonnage: 610 tons (High Steel's Portion)
Steel Type: Grade 50
Coating: Painted Prime
Project Team
Project Owner: Curtiss-Wright Manufacturing Corporation
Contractor: A. Martini & Company, Inc.
Architect: Curtiss-Wright Manufacturing Corporation
Detailer: Butler Heavy Structures
Steel Fabricator: Butler Heavy Structures
Steel Subcontractor: High Steel Structures Inc.
Steel Erector: Century Steel Erectors