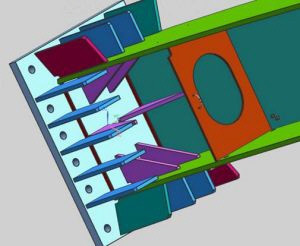 3-D Modeling of arch member
High Steel is committed to active participation in the industry, helping to advance the state of the art in steel fabrication. You will find our engineers presenting their work at industry conferences and taking leadership roles in organizations such as the AASHTO / NSBA Steel Bridge Collaboration, the AWS Structural Welding Committee, AREMA and the Transportation Research Board.
We are pleased to present the design community and project owners with a growing online resource of technical information related to steel design and fabrication.
Learn about how we can assist you by reviewing your project design from a fabricator's perspective and suggesting cost-saving details. We have several online tools to assist you in submitting your project information. We have compiled a technical library with links and downloads of presentations, articles, and white papers from leaders in the industry.
You can also learn more about today's steel coatings, read our Frequently Asked Questions, and browse our technical and industry links for more information.