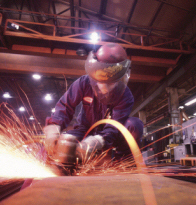 High Steel's annual fabrication capacity exceeds 80,000 tons.
High Steel: The Right Choice for the Job.
Full service fabrication for your next project.
High Steel is among North America's largest fabricators of steel for bridge projects, and we regularly partner with "beam and column" fabricators outside the transportation industry, building a reputation as a cost-effective resource for the fabrication of girders and other built-up components.
With more than 80,000 tons of annual fabrication capacity, High Steel can flex the schedule to meet your project's requirements. Sophisticated multi-coat paint systems and metalizing are applied in our dedicated blast and paint bays. High Steel holds a full range of welding certifications.
High Steel can assist you during all the phases of your project, from offering ideas for economical design to steel erection. We have an in-house detailing group, and we offer shipping services through High Transit LLC.
Contact our sales department for a quote on your next job.