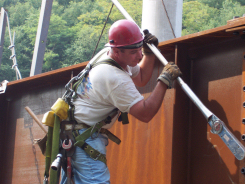 AISC Certified High Structural Erectors has
erected steel for hundreds of our projects.
High Structural Erectors
High Structural Erectors is a business unit of High Industries with roots as High Steel's field operations department. The company has erected steel on hundreds of High Steel's projects.
High Structural Erectors' crew of more than 30 professionals includes an erection engineer, project managers, foremen and superintendents, certified crane operators, and seasoned ironworkers.
Structural steel erection services are available as part of a bid package from High Steel.
For bids on supplemental services such as bridge steel rehabilitation and heat straightening of damaged girders, or for other steel or precast concrete erection needs, contact High Structural Erectors directly.