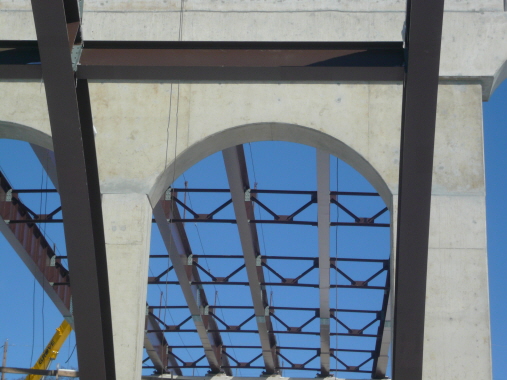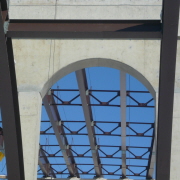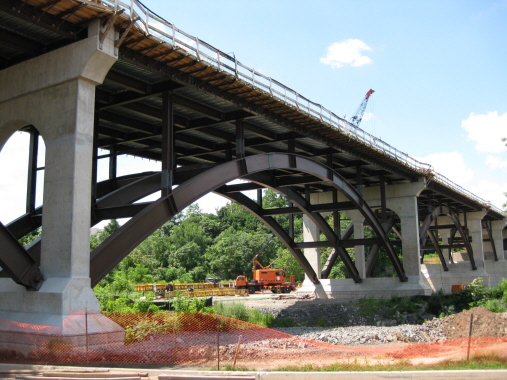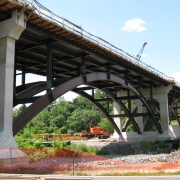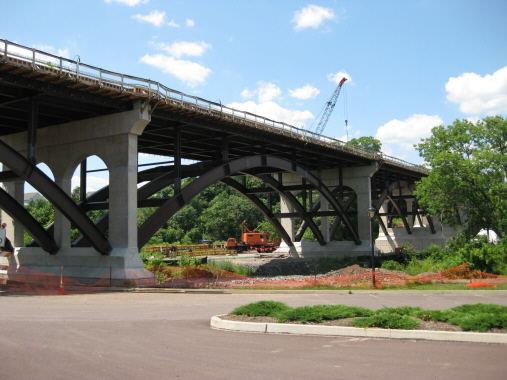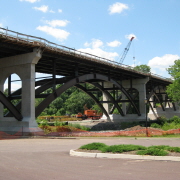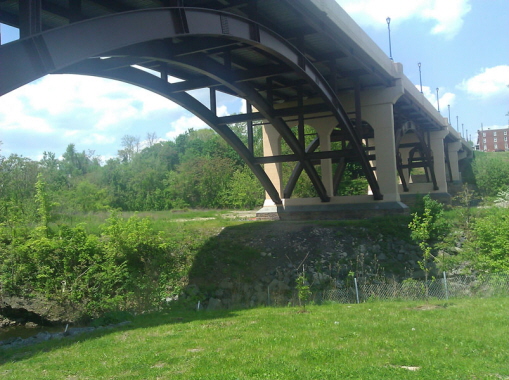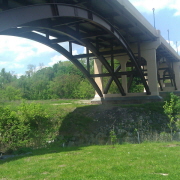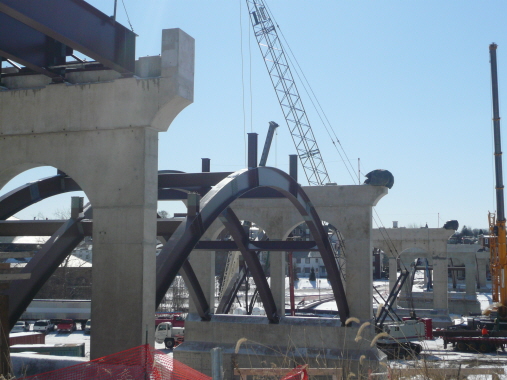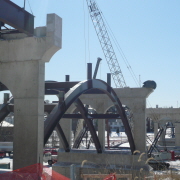 Gay Street Arch, Phoenixville PA
Gay Street Arch, Phoenixville PA


Gay Street Bridge, Phoenixville, PA
High Steel Structures fabricated and erected the steel for the new Veteran's Memorial Gay Street Bridge in Phoenixville, PA.

The general contractor for the $17 million project is Nyleve Bridge Corporation and preliminary engineering, environmental studies, final design and construction consultation services were provided by the design firm Johnson, Mirmiran & Thompson.

The project replaces a structurally deficient twelve-span concrete arch structure that was built in 1924. The new structure carries vehicular and pedestrian traffic over French Creek, Taylor Alley, Mill Street, Norfolk Southern Railroad, the French Creek Parkway, and the property under the bridge, which is the former site of the Phoenix Iron Works.

The color of the steel, light poles and architectural treatments were designed to complement the existing foundry building, the Borough's streetscape plan and the existing Phoenix column pedestrian bridge just downstream of the new structure. Other mitigation measures included creating historic panels mounted along the bridge sidewalks at overlook points to the historic foundry building, and historic panels placed under the bridge along the new trails.

The new bridge's superstructure design consists of three parts. The three-span south approach is a continuous curved steel plate girder, the north approach is a two-span continuous steel plate girder, and each of the four arch spans in the middle utilize a two hinged, steel, open spandrel deck arch with the floor system consisting of rolled beam stringers and floor beams.

The complex fabrication for the arch spans each contains three arch ribs. Each rib is comprised of three girders, for a total of 36 arch rib girders. Each arch rib contained two mill-to-bear field splices, for a total of 24 splices. Because of temperature fluctuations in the steel, maintaining the girder geometry during setup in the summer months required special attention. The effect of the co-efficient of steel expansion and contraction was minimized by taking survey measurements early in the morning, before the sun's heat expanded the steel.

The design of the bridge required fabrication of 60 columns, which were attached with full penetration welds to the top flange of the arch ribs. Thirty-six of the 60 columns also required a mill to bear splice. During setup, column heights were measured to verify that they would meet the required height of the roadway.

Erection of the bridge by High Steel's Field Operations group progressed smoothly. The arch erection required the use of three cranes to erect each arch rib before the top deck could be put into place.

The project team provided Phoenixville with a functional and aesthetically pleasing structure that met the cultural needs of the site. The bridge, which has been honored with numerous prize bridge awards, honors the rich history of the community while restoring safe movement across French Creek, the Railroad and the site below and also allowing for future site development.

Project Specs
Bridge Type: Steel Arch
Steel Tonnage: 956 Tons
Steel Type: Grade 50
Coating: Painted (Three Coats)
Project Team
Project Owner: Pennsylvania Department of Transportation
Contractor: Nyleve Bridge Corporation
Designer: Johnson, Mirmiran & Thompson
Detailer: abs Structural
Steel Fabricator: High Steel Structures LLC
Steel Erector: High Steel Structures LLC