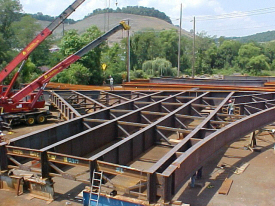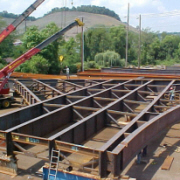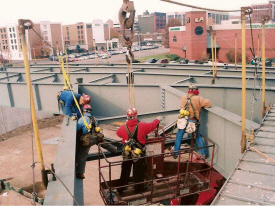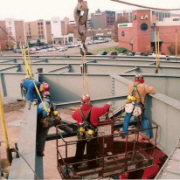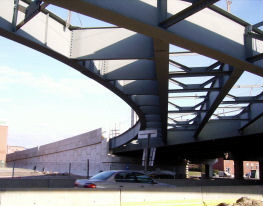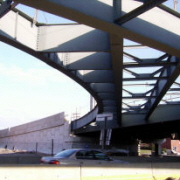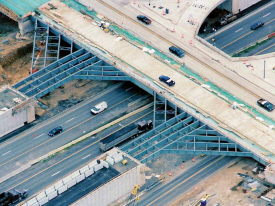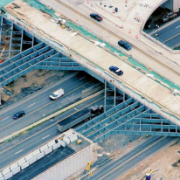 SPUI at Market Street Bridge


SPUI at Market Street Bridge, Williamsport, PA
If you think it's tough to build an interchange, try doing it twice! That's what High Steel had to as we fabricated and erected the steel and for Pennsylvania's first SPUI— Single Point Urban Interchange—at the Market Street Bridge in Williamsport, PA. A relatively new variant of the diamond interchange, the SPUI design provides a compact layout that requires less right-of-way acquisition and the ability for traffic to make concurrent left turns.
The new Market Street Bridge features one of only about 60 SPUI's in the United States. The project is tied into the revitalization of downtown Williamsport, and features a direct connection to Interstate 180.
Before the SPUI could be built at the Route 15 and Route 180 junction at the Susquehanna River, it was erected at the High Steel's yard in Williamsport to make sure everything fit together exactly as it should. This was a challenging project in that there were 88 plate girders— some straight, some curved, some full penetration fracture critical— that ranged from 18 feet to 143 feet, from 1.75 tons to 27 tons, from girders with zero curvature to girders with 8 feet of curvature, and from girders with one stiffener to girders with 48 stiffeners. There were also 116 diaphragms, 63 full depth plate diaphragms with strap plates and 412 knockdown angle cross frames.
The west side of the SPUI was shipped in the summer of 2005, while the east side had a November 2006 delivery date. Once on the jobsite, the steel was erected by High Steel's Field Operations group.
Each day, the Market Street Bridge in Williamsport carries more than 27,000 vehicles.
Project Specs
Bridge Type: SPUI - Plate Girders
Steel Tonnage: 1500 Tons
Steel Type: Grade 50
Coating: Painted - 3 coats
Project Team
Project Owner: PennDOT
Contractor: Trumbull Corporation
Designer: Michael Baker Jr., Inc.
Detailer: Upstate Detailing
Steel Fabricator: High Steel Structures Inc.
Steel Erector: High Steel Structures Inc.