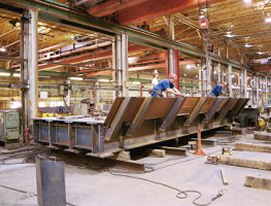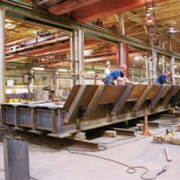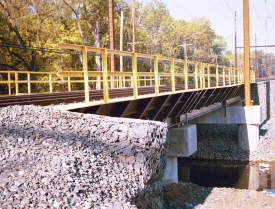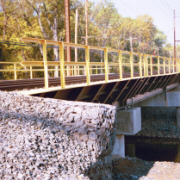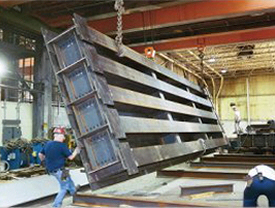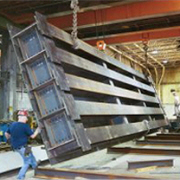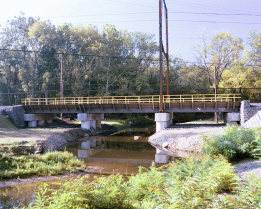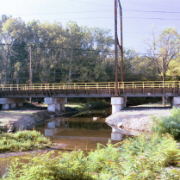 SEPTA Railroad Bridge Emergency Replacement, Fort Washington, PA
On June 16th and 17th, 2001, Tropical Storm Allison blew into Eastern Pennsylvania, destroying the 90-year old stone arch railroad bridge at Fort Washington on the R5 Lansdale-Doylestown line in storm-related flooding. A serious loss for SEPTA, this bridge is used by about 6,000 weekday commuters.
Emergency funds were secured from FEMA and the state of Pennsylvania. Following an emergency bid process on June 25th, the steel fabrication for the new bridge was awarded to High Steel Structures, Inc., with general contracting provided by Driscoll Construction Company. The contract began on June 29th, and called for round-the-clock work to restore rail service as soon as possible. High Steel built a pre-constructed steel bridge comprised of six deck units. The units each consisted of a row of stringers tied together with a deck plate, and ranged from 30-40 tons in weight.
High Steel delivered the deck units to the job site on July 12th, and erection began that night. By July 23rd the new three-span, steel deck girder bridge was reopened.
The new bridge is twice the length of the old structure and is able to withstand twice the volume of floodwaters as the structure it replaced.
Project Specs
Bridge Type: Steel deck plate bridge
Steel Tonnage: 200
Steel Type: A36
Coating: Painted
Project Team
Project Owner: Southeastern Pennsylvania Transportation Authority
Contractor: Driscoll Construction Company
Designer: DMJM+Harris Philadelphia, PA
Detailer: High Steel Structures Inc.
Steel Fabricator: High Steel Structures Inc.
Steel Erector: Driscoll Construction Company
Additional Info.