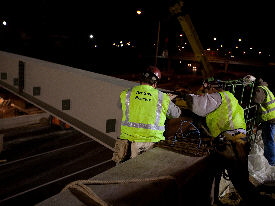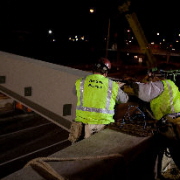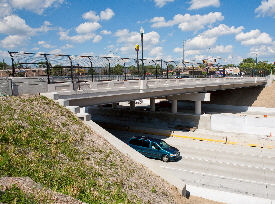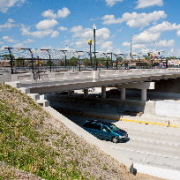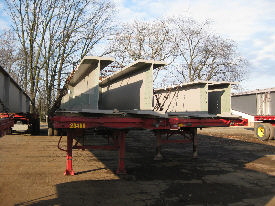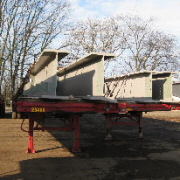 9 Mile Road Bridge, Hazel Park, MI
On a warm July evening in 2009, a violent fuel tanker explosion brought down part of the 9 Mile Road Bridge. The truck had struck the bridge, closing the heavily trafficked Interstate 75, the major north-south artery serving busy Hazel Park, Michigan. A portion of I-75 was damaged due to the fire and the bridge had to be quickly replaced.
The contract to clear the debris and build temporary pavement was bid within a week. On September 30 a Design-Build team was awarded the bridge replacement portion of the project. Working with the General Contractor, Walter Toebe Construction and the Structural Engineer, Bergmann Associates, High Steel fabricated 317 tons of steel girders, representing $1.1 million of the $12 million bridge replacement and freeway reconstruction.
Working closely with Bergmann Associates, the girders were designed and fabricated in six weeks rather than the normal project lead time. The project was put on a very accelerated schedule, with many operations overlapping. High Steel was given notification to proceed with the project on October 6. On October 27, the first steel delivery arrived at the jobsite.
High Steel's design-build project experience enabled High Steel to collaborate with the bridge designer to utilize material the company had available for the girders' webs and flanges. Additionally High Steel's resources at the steel mill and its capacity allowed the company to absorb the rush job into its schedule.
Bergmann Associates completed design plans within two weeks of the notice of award. High Steel's engineering department worked with a single point of contact for all of the project's design and detailing issues, and detailers worked extended hours, including Saturdays and Sundays, to meet the job's rapid pace.
The bridge was reopened to traffic in mid-December, only 65 days after the project team's notice of award.
PROJECT SPECS
Bridge Type: Girders
Steel Tonnage: 317
Steel Type: Grade 50
Coating: Painted
PROJECT TEAM
Project Owner: Michigan DOT
Contractor: Walter Toebe Construction, Wixom, MI
Design Consultant: Bergmann Associates, Lansing, MI
Detailer: High Steel Structures Inc.
Steel Fabricator: High Steel Structures Inc.