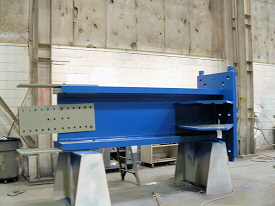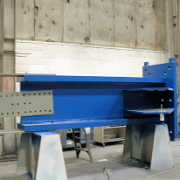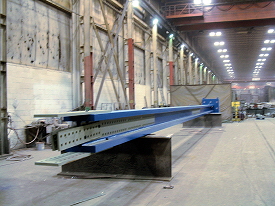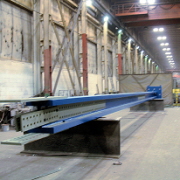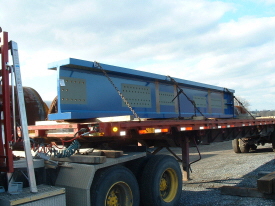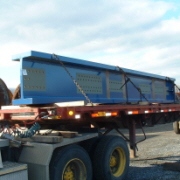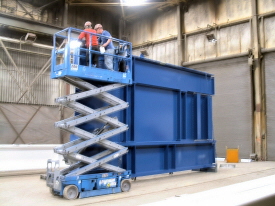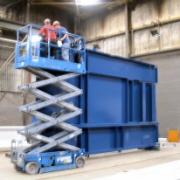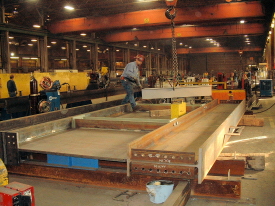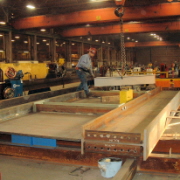 Selective Catalytic Reduction System - PSE&G, Jersey City, NJ
When E&H Steel of Alabama was awarded the 5,000 ton steel fabrication package for the construction of a new Selective Catalytic Reduction System at PSE&G's Hudson Generating Station in Jersey City, NJ, the company turned to High Steel for help with the heavy built up portions of the package.
This scope of the work includes fabricating twenty built up columns and eight large trusses. An unusual design, the truss chords are comprised of plate girders with two-inch webs full-penetration welded to four-inch thick flanges. The finished trusses weigh 1,500 pounds per foot and are 14 feet deep. High Steel is fully assembling the trusses prior to shot blasting and painting them at its Lancaster facility. High Transit is delivering the completed trusses to the job site.
High Steel's ability to shop-assemble and deliver these large pieces saved the contractor a great deal of time and effort in erecting the pieces at the jobsite.
PSE&G's project is scheduled for completion by the end of 2010.
Project Specs
Structure Type: Power Plant
Steel Tonnage: 450 tons (High Steel's Portion)
Steel Type: Grade 50
Coating: Painted - Two Coats
Project Team
Project Owner: PSE&G Fossil LLC
Contractor: The Shaw Group
Designer: The Shaw Group
Steel Fabricator: E&H Steel
Steel Subcontractor: High Steel Structures Inc.
Steel Erector: The Shaw Group