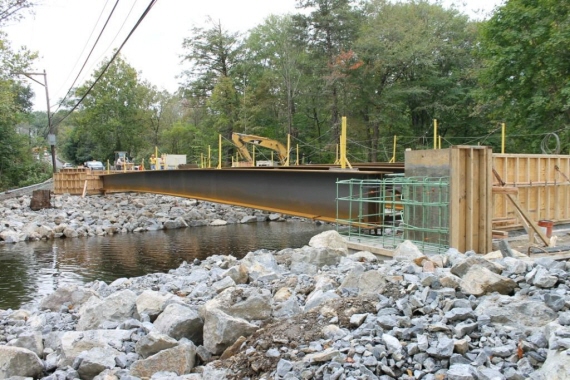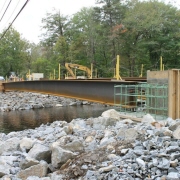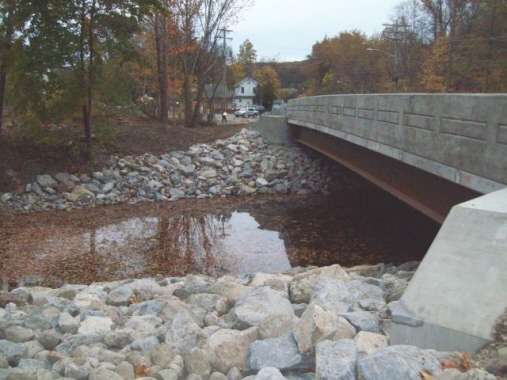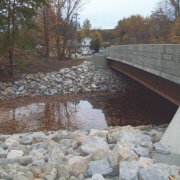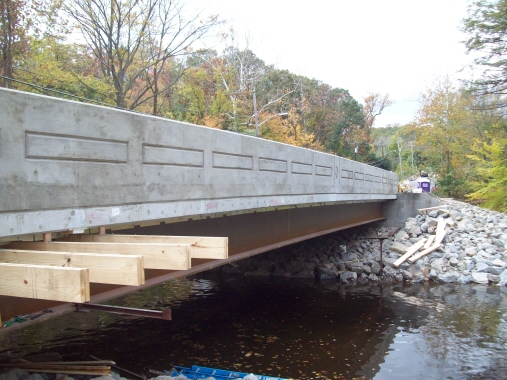 Seven Lakes Drive Emergency
Seven Lakes Drive Emergency
Seven Lakes Drive Emergency


Seven Lakes Drive Bridge, Harriman State Park, NY
The Seven Lakes Drive bridge, located over the spillway at Lakes Askoti and Skannatati, on Seven Lakes Drive in Harriman State Park, N.Y., was damaged by Hurricane Irene the last weekend of August, 2011. On September 2, the New York State DOT called on High Steel to replace the bridge and asked how quickly they could deliver girders.
As it turned out, High Steel was able to deliver the fully fabricated girders only 26 days later! New York State DOT designed the new bridge in-house, working closely with High Steel and keeping open lines of communication throughout the process. On September 6, just four days after placing the initial inquiry, NYSDOT provided High Steel with a rough design including basic flange and web dimensions. This rough design was enough to place a material order, which arrived at the plant two weeks later.
While the design was underway NYSDOT also provided dimensional information to High Steel to run their bridge coordinate geometry software, as well as answer key detailing questions that arose during the process. High Steel then developed the shop drawings with in-house personnel while NYSDOT completed the design. Drawing approval was lightning fast – a mere 2-hour turnaround with excellent support from all involved.
Ultimately, High Steel delivered fully fabricated plate girders on September 28, just 26 days after receiving the initial call from NYSDOT -- a true testament to the coordination and communication between the two parties. While the newly repaired Seven Lakes Drive bridge was ready for traffic on October 12, 2011, New York State DOT decided to open the bridge just two weeks later.
(Adapted NSBA Newsletter article, December 2011 edition)
Project Specs
Bridge Type: Girders
Steel Tonnage: 76
Steel Type: Grade 50W
Coating: Unpainted
Project Team
Project Owner: NYSDOT
Contractor: D.A. Colllins Construction Co., Wilton, NY
Design Consultant: NYSDOT In-House Design
Detailer: High Steel Structures Inc.
Steel Fabricator: High Steel Structures Inc.