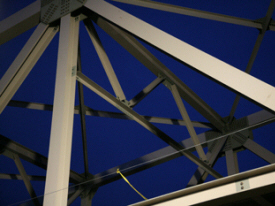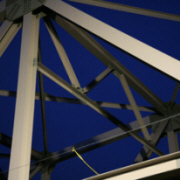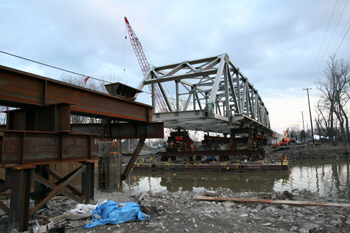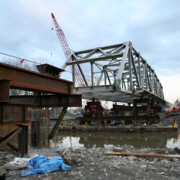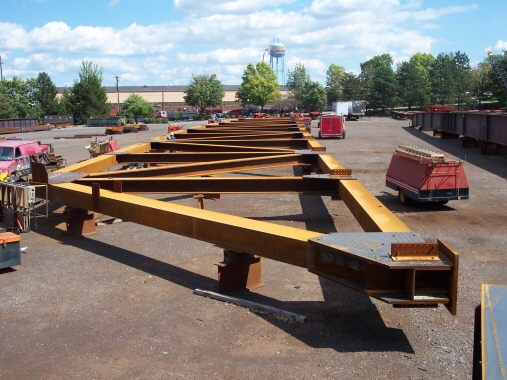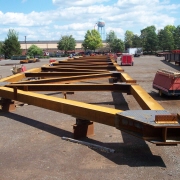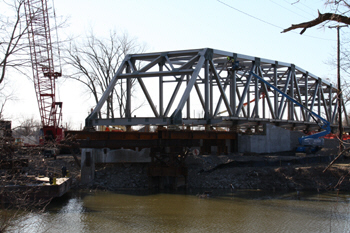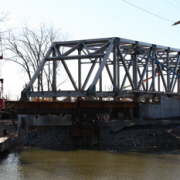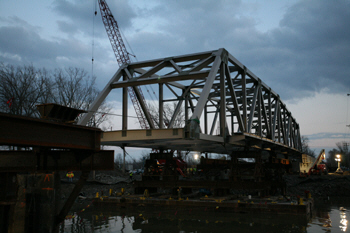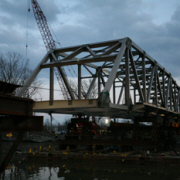 NY Rte 270 Truss over Erie Barge Canal, Amherst, NY
High Steel fabricated the structural steel and prepared the launch erection procedure for the replacement of the Rte 270 (Campbell Boulevard) truss bridge over the Erie Barge Canal in Amherst, NY.
A challenging project both in terms of fabrication complexity and engineering, the combination launch and float-in erection procedure for the truss is an example of accelerated bridge construction for a prefabricated steel bridge superstructure.
Pre-assembling the truss (with partial SIP decking) permitted abutment substructure construction activities to proceed concurrent with superstructure erection, thereby allowing contractor Oakgrove Construction to commence deck placement activities earlier in the construction season.
The three hundred foot long, seven hundred ton Warren truss was assembled on the south approach to the Erie Canal crossing (blocked to no-load profile). Upon assembly and after installing temporary struts at key locations to provide structural stability for the launch, load was transferred from full support at all panel points to four roller assemblies placed beneath reinforced primary connections.
The structure was then launched across the Erie Canal channel (Tonawanda Creek) in four phases:
The truss assembly was rolled approximately sixty feet along track beams, which were mounted on south shore falsework.
Barge-mounted falsework was positioned beneath the 120 ft cantilever, then de-ballasted to support the truss at reduced (sixty foot) forward overhang.
With approximately seventy percent of the truss weight remaining on a heavier, rear roller pair, the truss was then "float-rolled" across the channel.
Once the truss leading edge bearing points reached the north shore falsework, load was then transferred to final bearing points on the north and south falseworks; the structure was then rolled the remaining sixty feet into final position.
In total, the structure was moved approximately 230ft total over four days.
The new bridge, which connects the towns of Amherst, Erie County and Pendleton, Niagara County, replaces a historic truss and better accommodates vehicular traffic, provides wide shoulders for bicyclists, and includes new sidewalks for pedestrians. The project also includes the reconstruction of the two intersections adjacent to the bridge, and a new entrance to the Erie Canal trail way.
Project Specs
Bridge Type: Truss
Steel Tonnage: 702 Tons
Steel Type: Grade 50
Coating: Painted (Three Coats)
Project Team
Project Owner: NYSDOT
Contractor: Oakgrove Construction, Inc.
Designer: NYSDOT
Detailer: Upstate Detailing, Inc.
Steel Fabricator: High Steel Structures LLC
Steel Erector: Hohl Industrial Services, Inc.