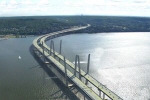 Bridge Rendering Courtesy NYS Thruway
High Steel Structures Inc. and Hirschfeld Industries, LP to Fabricate Structural Steel for the Tappan Zee Bridge
on December 11, 2013
From The American Institute of Steel Construction
Chicago, IL - Two major U.S. steel fabricators have stepped up to take on one of the most significant transportation projects in the nation's history. High Steel Structures Inc. of Lancaster, Pennsylvania and Hirschfeld Industries, LP of San Angelo, Texas have each been awarded a contract to fabricate structural steel for the approach spans of New York's new Tappan Zee Bridge. The project is the largest transportation design-build project to date in the United States and one of the largest construction contracts in New York State history.
After proposals were submitted in mid-2012, the New York State Thruway Authority awarded a $3.142 billion contract to design and build the project to Tappan Zee Constructors (TZC), a consortium including Fluor Enterprises, Inc., American Bridge Company, Granite Construction Northeast, Inc., and Traylor Bros., Inc.. The design team working with Tappan Zee Constructors is HDR, Buckland & Taylor, URS, and GZA.
Shortly after the project was advertised, High Steel Structures and Hirschfeld Industries teamed together to bid the project due to the massive size and scope of the steel production.
Fluor Enterprises is TZC's lead contractor for sourcing the structural steel. The project was divided into two steel packages: one for the approach steel, totaling nearly 100,000 tons; and another for the main span cable stay steel, totaling approximately 10,000 tons.
The approach steel package bid was submitted September 24, 2013, and awards were made to High Steel Structures and Hirschfeld Industries on November 11, 2013. Each fabricator will produce approximately half of the steel under separate contracts and will provide portions of both the eastbound and westbound approach spans. The main span steel package has yet to be bid.
Steel deliveries are set to begin in October of 2014 and will continue into the first quarter of 2017. High Performance Steel (HPS) plate steel is being employed in the design. The primary material supplier for the project is ArcelorMittal USA.
"The award of the Tappan Zee structural steel contract to the team of fabricators High Steel Structures Inc. and Hirschfeld Industries, with material supply by ArcelorMittal USA, validates the fact that the United States steel construction industry has the capacity, capability, and collaborative spirit to meet our nation's infrastructure needs," stated American Institute of Steel Construction President Roger Ferch.

"We answered our industry's call for leadership," Hirschfeld's executive vice president, John O'Quinn said. "Together we were able to provide the owner and design-build team with all the tangibles a project of this magnitude required, while mitigating their risks. The largest design-build bridge in US history will utilize the two largest bridge fabricators in the USit just makes sense."
High Steel Structures president Brian LaBorde said, "We are looking forward to working on this historic project, which demonstrates that fabricators in the United States have the capacity and capability to fabricate and deliver the massive quantity of structural steel required for a project of this size a win for 'Buy America.'"
Located north of New York City, the new Tappan Zee Bridge will carry the Thruway, Interstate 87, and Interstate 287 over the Hudson River between South Nyack, Rockland County, New York and Tarrytown, Westchester County, New York. According to the Thruway Authority, the first span of the new twin-span bridge is scheduled to open in 2016, and the new bridge should be complete in 2018. The bridge will be designed and constructed to last 100 years without major structural maintenance.
About High Steel Structures Inc.
Founded in 1931 in Lancaster, Pa., High Steel Structures LLC is one of the largest fabricators of structural steel in the United States, with more than one million tons of steel fabricated in the past 20 years. High Steel Structures' 700+ co-workers fabricate a wide range of complex bridge components and steel superstructures, and the company offers bridge erection, transportation, and emergency repair services. High Steel Structures has been instrumental in the development of new, innovative processes and materials throughout its long history as an industry leader. The company is headquartered in Lancaster, Pa., and operates four fabrication facilities in Lancaster and Williamsport, Pa. High Steel Structures is an affiliate of High Industries Inc. For more information, call 717.390.4270 or visit www.highsteel.com.
About Hirschfeld Industries LP
Hirschfeld Industries is one of the largest fully integrated fabricators of highly engineered structural steel components in North America. The company serves a wide range of end markets including transportation infrastructure, industrial development, commercial construction and power generation.

With eleven facilities and over 900 employees providing a national presence and industry leading footprint, Hirschfeld Industries is a major participant in the expansion and redevelopment of the U.S. transportation and energy infrastructure systems, both government-funded and private enterprises. Hirschfeld Industries was founded in 1946 and is headquartered in San Angelo, Texas. For more information, call 336.275.9711or visit www.hirschfeld.com.
About The American Institute of Steel Construction
The American Institute of Steel Construction, headquartered in Chicago, is a not-for-profit technical institute and trade association established in 1921 to serve the structural steel design community and construction industry. AISC's mission is to make structural steel the material of choice by being the leader in structural steel-related technical and market-building activities, including: specification and code development, research, education, technical assistance, quality certification, standardization, and market development. AISC has a long tradition of service to the steel construction industry of providing timely and reliable information.
One East Wacker Dr. Suite 700
Chicago IL 60601
Phone: (312) 670-2400
Fax: (312) 896-9022
www.aisc.org
(Project rendering courtesy NYS Thruway)