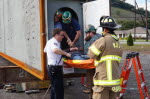 Rescue simulation at High Steel's Williamsport plant
Collaboration at Williamsport plant supports emergency preparedness
on October 04, 2018
High Steel Structures LLC conducted a safety triage on Wednesday, October 3, at its Plant 3 property in Williamsport, Pa. The bridge fabrication firm worked with the Williamsport Bureau of Fire to simulate rescues of three people from a staged incident in a 69-foot-long box girder weighing 70 tons. First responders were not informed of the details of the 1 p.m. incident and treated it as an actual emergency.
"High Steel Structures has conducted large-scale safety drills like this one for more than 10 years," said Deb Kupres, Lead Estimator and First Aid Team Leader, High Steel Structures LLC, who oversaw the simulation activities. "We were deeply gratified to have the wholehearted support of our local first responders. I thank Mark Killian, assistant fire chief, Williamsport Bureau of Fire, for his help and support in coordinating this exercise."
High Steel Structures simulated two welders working inside the box girder who are asphyxiated by smoke and toxic fumes. A third person who comes to their aid is also overcome. First responders used air packs and treated the victims on-site before transferring them to an ambulance for transport. The simulation was limited to High's plant.
High Steel Structures conducts annual safety triage exercises to ensure that its High Steel First Aid Team and local first responders are prepared for actual emergencies. The High Steel First Aid Team comprises 34 Lancaster High Steel co-workers and 14 Williamsport High Steel co-workers who receive extensive training including a minimum of 16 hours in emergency medical response, eight hours in CPR/AED training, and on-site drills. The First Aid Team has been active at High Steel since 1969. Read more