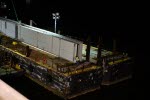 The steel girder is lifted into place from a barge (Sarah L. Voisin/The Washington Post)
Two-hundred-foot-long girders are key parts of the hallowed bridge's repair project.
on July 05, 2019
From The Washington Post
The sky is black as the giant girder swings on its Kevlar cables from the construction crane on the Potomac River barge below.
An air horn has just sounded a three-blast warning, and the 218-foot-long, 86-ton hunk of bridge steel slowly rotates toward Trevlin Bransom, who pulls on a work glove and walks to meet it.
It's about 10:30 on a recent evening. The illuminated Lincoln Memorial glows in the distance. And the "pick," as such a heavy lift is called, is underway beneath the spotlights in the middle of Arlington Memorial Bridge. Read more