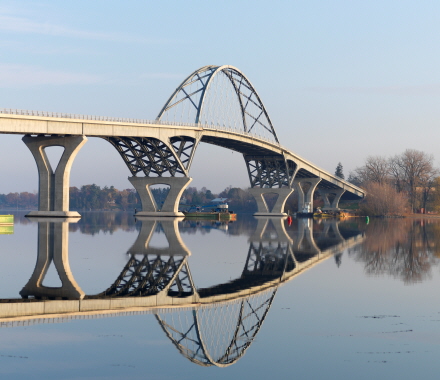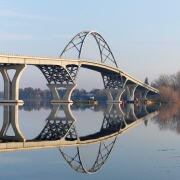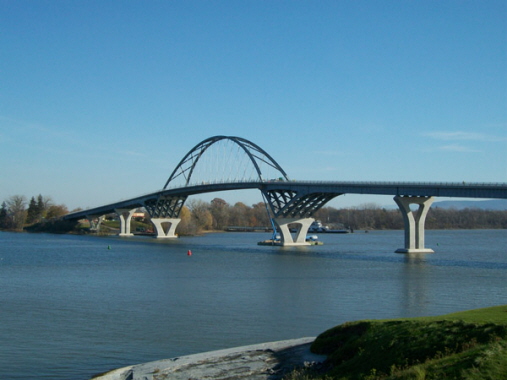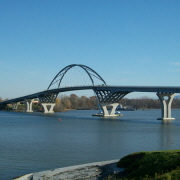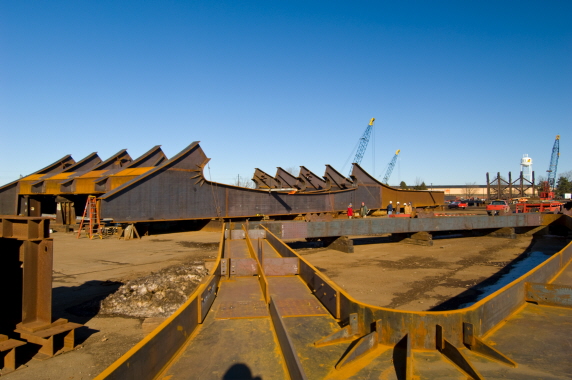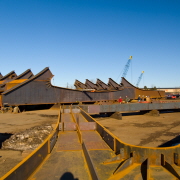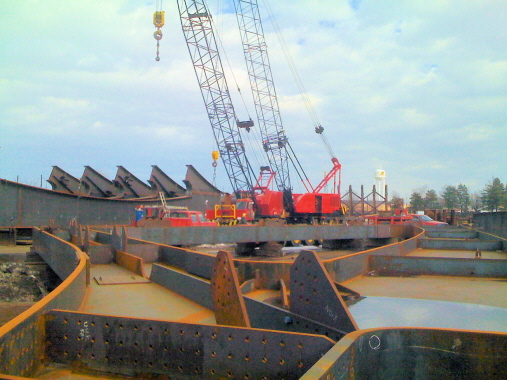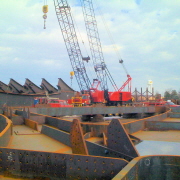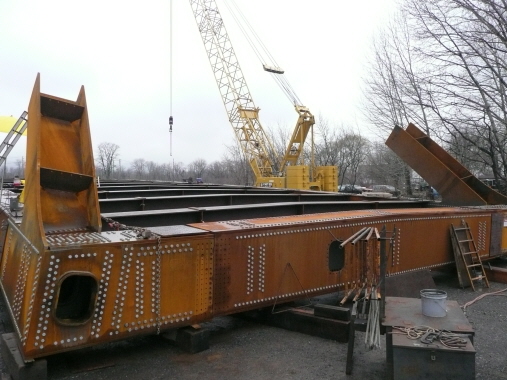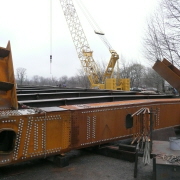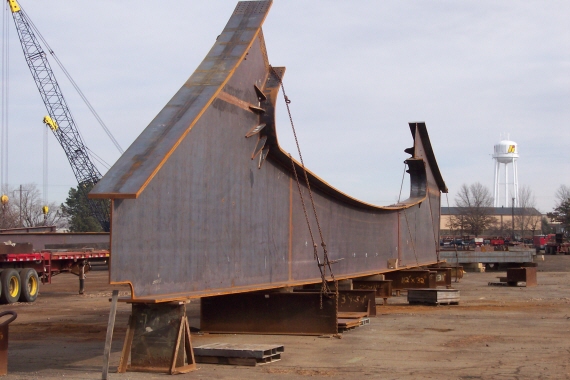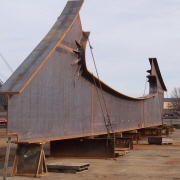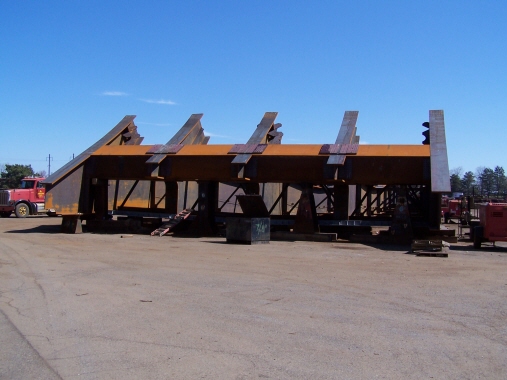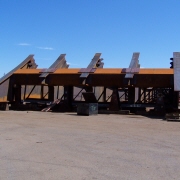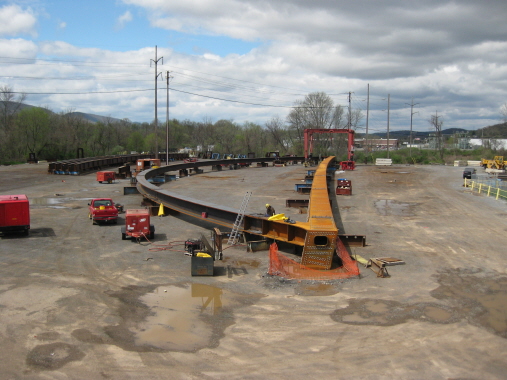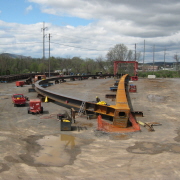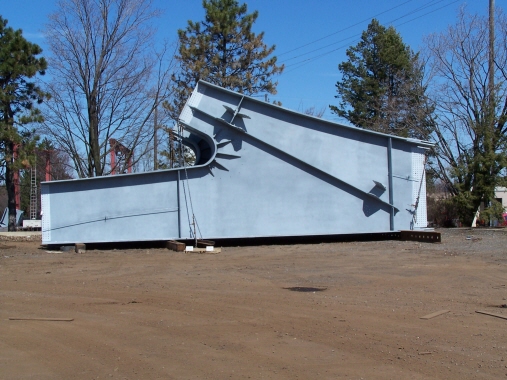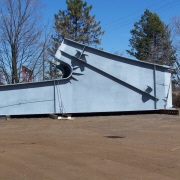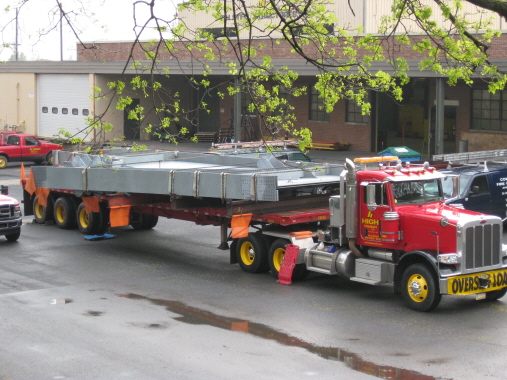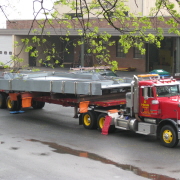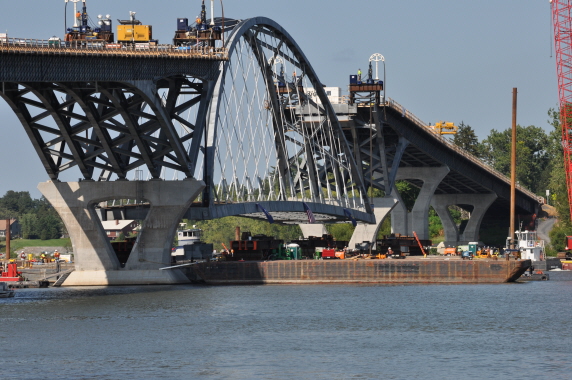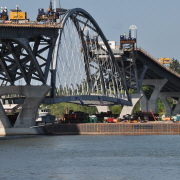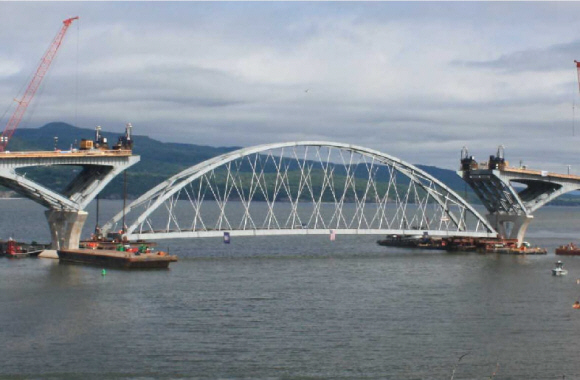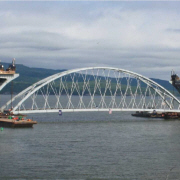 Lake Champlain Arch Bridge Image Courtesy HNTB
Lake Champlain Arch Bridge Image courtesy NYSDOT
Lake Champlain Arch Bridge
Lake Champlain Arch Bridge
Lake Champlain Arch Bridge
Lake Champlain Arch Bridge
Lake Champlain Arch Bridge
Lake Champlain Arch Bridge
Lake Champlain Arch Bridge


Lake Champlain Bridge, Crown Point, NY - Chimney Point, VT
The new Lake Champlain Bridge is a modified network tied arch bridge. This fast-track, high profile emergency replacement project required complex fabrication and the application of a metallized coating to protect its 4,234 tons of steel from the harsh weather common to the area.
The new bridge is jointly owned by the New York State DOT and the Vermont Agency of Transportation, and replaces a truss built in 1929 which was suddenly closed due to severe deterioration in late 2009.
The steel design features 40-foot deep rigid frame delta-leg girder assemblies at the beginning of the 400-foot arch span.
High Steel began shipping steel to the jobsite in early January, 2011, and the contractor, Flatiron Construction, erected the first girders on January 28th. Erection of the approach spans continued throughout the spring and summer, while the arch span was erected in its entirety offsite on two barges at Port Henry on the lake's western shore.
On August 26th, two tug boats pulled the barges 2 miles across the lake and had the arch at the bridge site by 8:00 a.m. to begin the process of hoisting it into place. The bridge was opened to traffic on November 7, 2011.
Project Specs
Bridge Type: Modified Network Tied Arch
Steel Tonnage: 4,234
Steel Type: Grade 50W and Grade 70
Coating: Metalized
Project Team
Project Owner: NYSDOT and Vermont Agency of Transportation
Contractor: Flatiron Construction Company
Design Consultant: HNTB
Detailer: NY and VT Approaches - Tensor Engineering
Arch – Candraft Engineering
Steel Fabricator: High Steel Structures LLC
Additional Info.
Project Website -
Finished bridge and jobsite images courtesy HNTB, NYSDOT, and Flatiron.