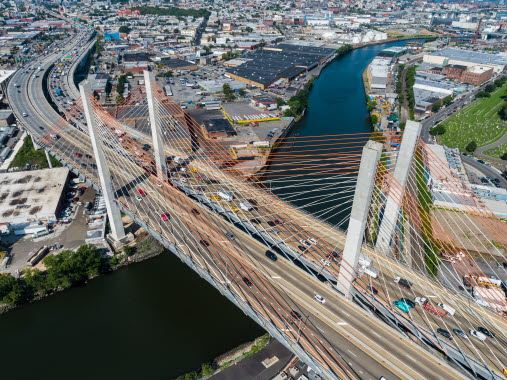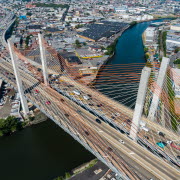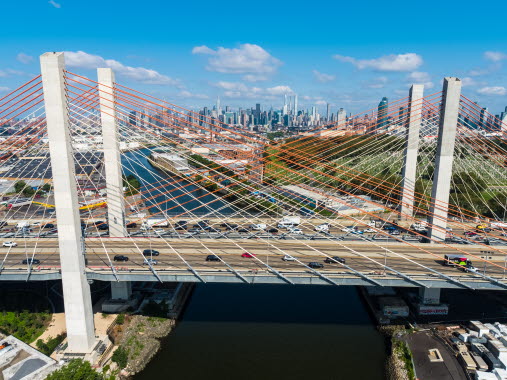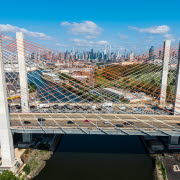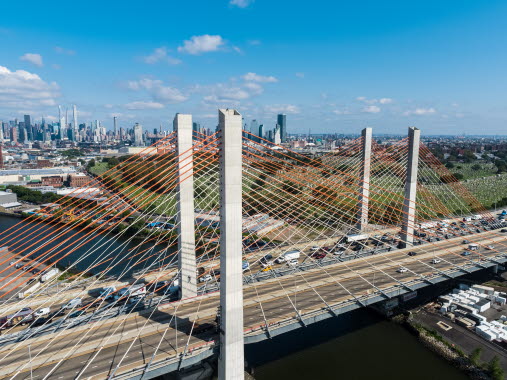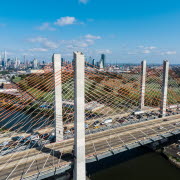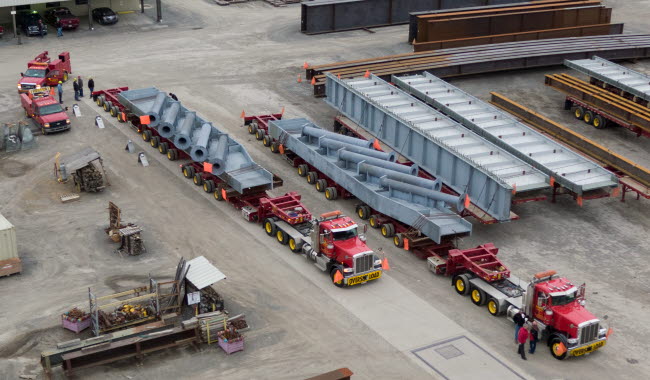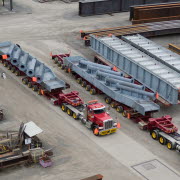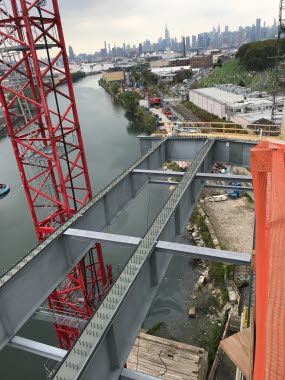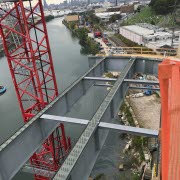 Kosciuszko Bridge Phase II
Kosciuszko Bridge Phase II


New Kosciuszko Bridge - Brooklyn - Queens, NY
New York City recently gained its first major cable stayed bridge with the completion of the New York State Department of Transportation's new Kosciuszko Bridge.
The signature, multiphase project pairs two independent cable stayed bridges, enhancing the city's skyline with the mirror-image structures' single towers combining to create the striking illusion of a single, dual tower cable stayed bridge when viewed in elevation.
The bridge connects the New York City boroughs of Brooklyn and Queens over Newtown Creek via the Brooklyn-Queens Expressway. Like its predecessor, the bridge is named for the Polish-born American Revolutionary War general and civil engineer, Thaddeus Kosciuszko.
New York State DOT advertised the bridges in two separate contracts, with the Phase I design-build contract supplying the eastbound (Queens-bound) structure and the Phase II design-bid-build contract supplying the westbound (Brooklyn-bound) structure. Both contracts also included a considerable amount of approach work.
High Steel Structures supplied the steel superstructure for each phase's main cable stay spans, ultimately fabricating, metalizing and delivering a total of 6,249 tons of steel for the two independent contracts.
Steel fabrication and delivery for Phase I was completed between July 2015 and January 2017. Steel fabrication and delivery for Phase II was completed between January 2018 and July 2019.
Read more about this project in our newsletter.
Project Specs
Bridge Type: Cable Stayed
Steel Tonnage: 6,249 Tons (Phase I and II Combined Total)
Steel Type: Weathering Steel
Steel Coatings: Metalized Girders and Floor Beams; Galvanized Anchor Assemblies and Select Secondary Members
Project Teams

Project Owner:

Contract Amount:

Delivery Method:

General Contractor:

Lead Consultant:

Steel Detailer:

Fabricator:

Phase I (Eastbound Span)

NYSDOT

$555 Million

Design-Build

Skanska-Kiewit-ECCO III JV

HNTB

Candraft

High Steel Structures LLC

Phase II (Westbound Span)

NYSDOT

$318 Million

Design-Bid-Build

Granite Construction Northeast Inc.

WSP USA

Candraft

High Steel Structures LLC
*Jobsite photos courtesy of Granite Construction Northeast.