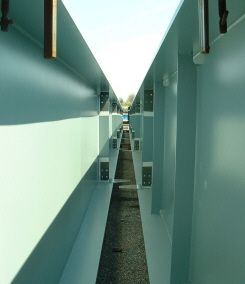 Modern coatings provide extraordinary corrosion protection.
Coatings
Twenty-first century corrosion protection
Steel Coatings
Today's coating systems reliably protect the steel while enhancing the appearance to match the designer's imagination. Paint manufacturers continue to improve their products in regards to durability as they reduce VOC emissions. This is not your grandfather's paint system anymore.
To ensure the long-term performance of the coating system, the applicators must be knowledgeable of the products, have the right tools and equipment to prepare surfaces properly, and provide quality control through every step of the process. High Steel Structures LLC has sophisticated blast and paint capabilities at each of its fabrication plants in Lancaster and Williamsport. Our stationary blasting equipment can accommodate fabricated steel up to five feet wide, with length and height to shipping tolerances. Larger pieces are blasted with hand held equipment to prepare all surfaces just prior to paint application.
For Building Construction:
Steel that is used for a building structure is often protected from the elements and hidden from view. For exterior applications however, buildings can be exposed to harsh environments and weather. Today's coating systems free architects to use steel as a feature component of their designs because then can rely on the coating performance for years to come. High rise buildings, sports stadiums, and entertainment complexes now specify sophisticated paint systems that were unavailable a few decades ago.
High Steel has the equipment and expertise to apply sophisticated coatings properly, and we can supplement the effort of other steel fabricators who land a job that requires coating capabilities that they don't have. It is often most cost effective when High Steel also fabricates the members requiring special coating systems to avoid added shipping expenses between plants.
For Bridges:
Repainting a bridge, or even performing paint repairs on a bridge, can involve expensive traffic control and rigging. That is why the right coating system is critical to bridge owners. Prior to the 1970's, bridges were painted with lead based primers instead of today's zinc rich coatings that provide galvanic protection. Prior to the 1970's, bridge steel was not routinely blasted to remove mill slag either. Those old systems had shorter life cycles requiring expensive repainting efforts. Today's most popular paint systems use zinc primers with additional coatings of epoxy and urethane paints. The zinc will protect the steel from corrosion, while the top coats protect the prime coat and provide the color and sheen desired.
Another option is to specify weathering steel. This high-strength, low-alloy steel forms a tightly adhering "patina" during its initial exposure to the elements. The patina is essentially an oxide film of corrosion by-products which is about the same thickness as a heavy coat of paint. Weathering steel may not be sufficient on its own in highly corrosive environments, such as coastal waterways; but many bridge owners like to add paint to weathering steel bridges over localized problem areas, such as beneath the expansion joints. Painting over weathering steel at the pier locations also eliminates rust stains from forming on the concrete.
Finally, in areas where corrosion is a threat, one of the most valuable tools a designer can use is metalizing. Metalizing effectively increases the life of bridges through a process that uses an electric arc spray gun to apply a thermal spray of molten zinc or zinc/aluminum alloy to steel members, providing a protective coating that resists corrosion. High Steel's Williamsport facility features state of the art equipment for blasting and metalizng steel components.