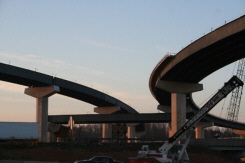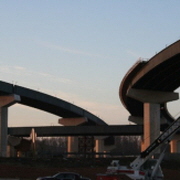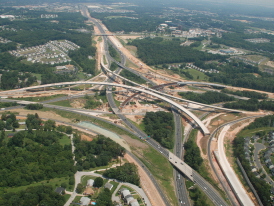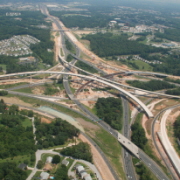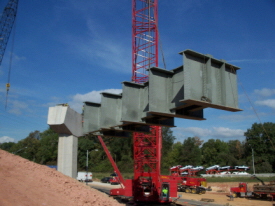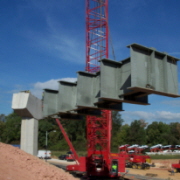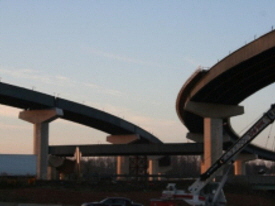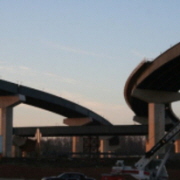 I-95 / I-695 Interchange, Phase 1 Baltimore County, MD
High Steel was contracted to fabricate, deliver and erect over 16,000 tons of structural steel for the Maryland Transportation Authority's first I-95/I-695 Interchange contract. The structural steel fabrication encompassed 11 bridges required for 17 stages of construction. The project's aggressive delivery schedule prompted High Steel to tap into the vast knowledge base and experience of its workforce to create innovative processes. These processes needed to be created and developed without sacrificing the fit and finish that has become High Steel's cornerstone within the industry.
High Steel was able to exceed delivery expectations without sacrificing quality by introducing innovative processes to an industry that is steeped in tradition. For example, High Steel's engineering group implemented a shop drawing processes entitled Design Intent. Design Intent reduced the quantity of shop drawings submitted for owner approval by over 60%.
High Steel's Field Operations group erected four large multi-span curved flyover bridges and two straight plate girder bridges for the project using six cranes ranging from 60 to 300 tons in capacity. Because some of the ramps are as high as 110 feet, High Steel designed and erected shoring towers at mid-span to support the ramps during the erection process.
The I-95 / I-695 project is part of the Maryland Transportation Authority's multi-year $450 million I-95 Express Toll Lanes project, which will ease traffic congestion by reconfiguring the ramps at the interchange and creating two fully directional interchanges - one an express toll lane and the other for general purpose traffic. It is estimated that by 2025, the interchange will be handling some 450,000 vehicles each day.
Phase 1 was constructed by a joint venture between G.A. & F.C. Wagman Inc. of York, PA; Corman Construction Inc. of Annapolis Junction, MD; and McLean Contracting Co. of Glen Burnie, MD.
Check out the jobsite with Google Street View
Project Specs
Bridge Type: Interchange, curved plate girder
Steel Tonnage: 16,524 Tons
Steel Type: Grade 50 and Grade 50W
Coating: Weathering Steel with End Paint
Project Team
Project Owner: Maryland Transportation Authority
Contractor: Joint Venture between G.A. & F.C. Wagman Inc., Corman Construction Inc., and McLean Contracting Co.
Designer: Johnson, Mirmiran & Thompson (JMT), Sparks, MD
Detailer: High Steel Structures Inc.
Steel Fabricator: High Steel Structures Inc.
Steel Erector: High Steel Structures Inc.
Additional Info.
For more information, see the following: