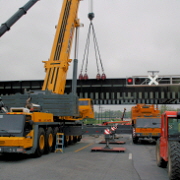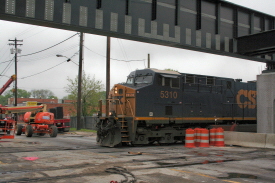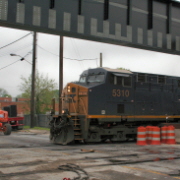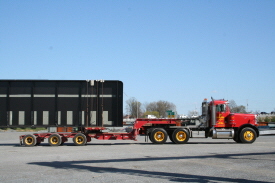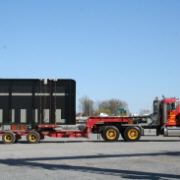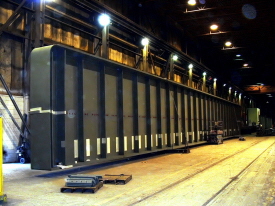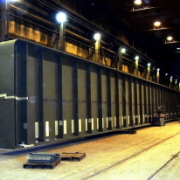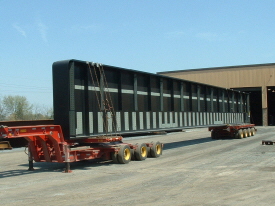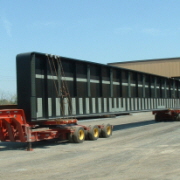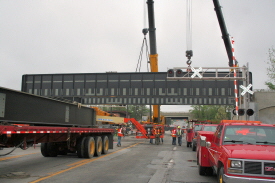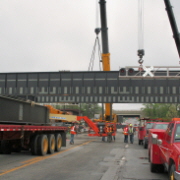 CSX Bridges over MD450 and Upshur Street, Prince Georges County, MD
High Steel fabricated and erected four massive railroad girders for the Maryland State Highway Administration's $70 million railroad bridge construction project on MD 450 and Upshur Street in Prince George's County. The project required a total of 749 tons of steel.
The steel erection on the project began in April 2008 at the MD 450 bridge and required contractor Balfour Beatty to close the road over a weekend as High Steel's Field Operations Group set two 120-ton steel railroad girders in place directly over the travel lanes.
Three cranes needed to lift the beams were staged on the lanes of MD 450, and the large railroad girders and floor beams were all set in two 12-hour shifts. While the work was done, CSX continued to operate along the at-grade crossing, requiring careful coordination of scheduling and equipment placement with the railroad. The steel work on the bridge was completed in overnight work over a period of three weeks.
The steel erection for the Upshur Street bridge was completed in a similar manner beginning in May 2008. The third bridge on the project, over a tributary of the Anacostia River, is the smallest of the three and was erected in 2007.
The Maryland SHA and CSX switched rail traffic to the new overpasses in September 2008, easing traffic congestion in the area. Prior to the project's completion, more than 25 trains crossed at-grade along MD 450 near the Peace Cross daily. The trains stopped traffic for an average of 15 minutes at a time, resulting in back ups which could reach up to one-mile in each direction during peak morning and afternoon hours.
The overall project is scheduled to be completed by fall 2009.
Project Specs
Bridge Type: Railroad
Steel Tonnage: 749 tons
Steel Type: Grade 50
Project Team
Project Owner: Maryland SHA
Contractor: Balfour Beatty
Designer: Whitman, Requardt, and Associates LLP
Detailer: High Steel Structures Inc.
Steel Fabricator: High Steel Structures Inc.
Steel Erector: High Steel Structures Inc.