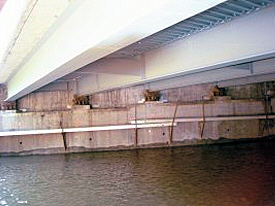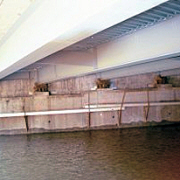 I-80 over Den Brook Emergency Replacement, Denville, NJ
On June 22, 2001, a bad accident involving two tractor trailers and a gasoline tanker resulted in an explosion which damaged the concrete I-beams on a four-lane simple-span bridge on Route 80 near Denville, New Jersey. The westbound lanes were closed for four days. A temporary bridge offered some relief, but forced 70,000 motorists to squeeze into two lanes each day. The push was on for a permanent repair. Steel beams were specified, as they could be obtained more quickly than concrete, with no compromise in strength.
High Steel was called in by the New Jersey Department of Transportation and IEW Construction Group Inc, which has a contract to maintain steel bridges for the state. High Steel was immediately put on the job and contracted to deliver eight beams in two deliveries of four beams each. The deliveries were scheduled for August 1st and August 15th Coincidently, High Steel happened to have eight steel I-beams in stock which could be quickly restructured to replace the damaged concrete beams. Several retrofits were made to the beams, including the addition of an inch of camber.
By August 1st, all eight beams were delivered to the job site, allowing the construction schedule to be expedited. Vehicles began rolling over the new structure in September, 2001
Project Specs
Bridge Type: Rolled Beams (Stringer)
Steel Tonnage: 60
Steel Type: A36
Coating: Painted
Project Team
Project Owner: New Jersey DOT
Contractor: IEW Construction Group
Detailer: High Steel Structures Inc.
Steel Fabricator: High Steel Structures Inc.
Steel Erector: IEW Construction Group