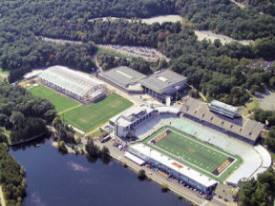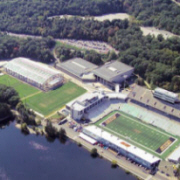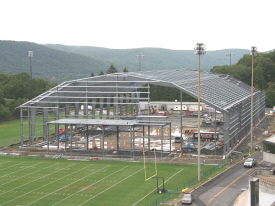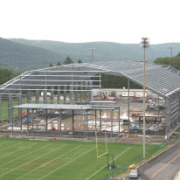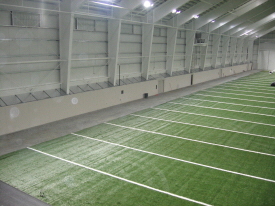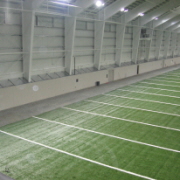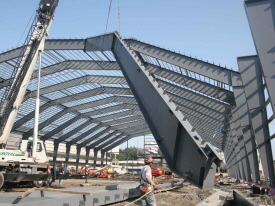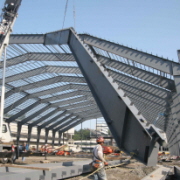 The Foley Athletic Center at the United States Military Academy, West Point, NY
Butler Manufacturing of Annville, PA, and High Steel teamed up to fabricate the steel framing used to build the new Foley Athletic Center at West Point. Butler had the lead on designing the frames and called upon assistance from High Steel as an efficient approach to making the larger framing components for the project. In all, more than 825 tons of steel were used to construct the facility.
Following a year-long process of design and construction planning, it was determined that a pre-engineered steel building system would be best suited to create the unique features planned for the new 92,400-square-foot building. The indoor training facility is unlike the field houses or athletic facilities found on most college campuses. The building has unusually high (65 feet) ceilings to accommodate punting, kicking, and return drills.
The project was funded by the largest single donation in the history of the federal Service Academies—a $15 million donation to West Point's Association of Graduates from Bill and Carol Foley. Mr. Foley graduated from the Military Academy in 1967 and was commissioned as an officer in the United States Air Force where he reached the rank of Captain.
Construction was completed in January 2007.
Project Specs
Structure Type: Pre-engineered Steel Building System
Steel Tonnage: 825 tons
Steel Type: Grade 50
Coating: Painted
Project Team
Project Owner: United States Military Academy
Contractor: Hardy Construction
Architect: Baker Barrios Architects
Detailer: Butler Manufacturing
Steel Fabricators: Butler Manufacturing
Steel Subcontractor: High Steel Structures Inc.
Steel Erector: Hardy Construction
Additional Info.
For the project's page on West Point's website, including more photos, please visit Army Black Knights - goarmysports.com .