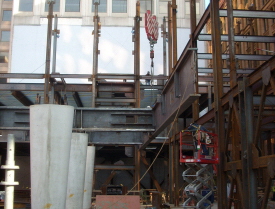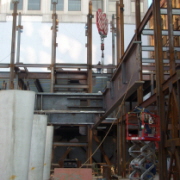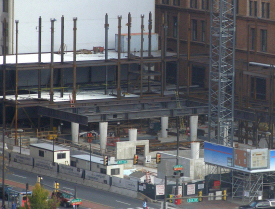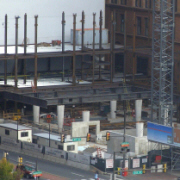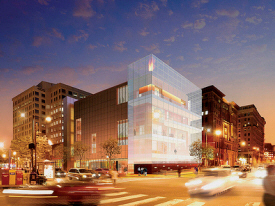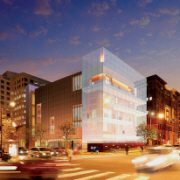 National Museum of American Jewish History Philadelphia, PA
The National Museum of American Jewish History is constructing a new 100,000-square-foot, five-story building on Independence Mall in Philadelphia that will stand directly across from the Liberty Bell, two blocks south of the National Constitution Center, and one block north of the birthplace of American liberty, Independence Hall.
Berlin Steel of Malvern, PA was awarded the steel package for this project and put together a team to handle the fabrication and erection. In addition to the beam and column requirements there were 17 complex plate girders. High Steel Structures worked closely with Berlin Steel throughout the budgeting and bidding stage of the project, and was selected to fabricate and deliver the plate girders. Due to job site restrictions and the lack of lay down space, our ability to coordinate shipments directly from our shop to "under the hook" was essential to the success of the project.
The new Museum, which will serve as a cornerstone of the modern-day American Jewish community, is dedicated to telling the still unfolding story of Jews in America. The Museum will welcome all people, inviting them to discover what they have in common with the Jewish experience in America, and to explore the features that make this history distinctive.
(Project background information and photos courtesy of National Museum of American Jewish History)
Project Specs
Structure Type: Building
Steel Tonnage: 250 tons (High Steel's Portion)
Steel Type: Grade 50
Coating: Painted Prime
Project Team
Project Owner: National Museum of Jewish American History
Contractor: Intech Construction
Architect: Polshek Partnership Architects, LLP
Detailer: Berlin Steel
Steel Fabricator: Berlin Steel
Steel Subcontractor: High Steel Structures Inc.
Steel Erector: Berlin Steel
Additional Info.