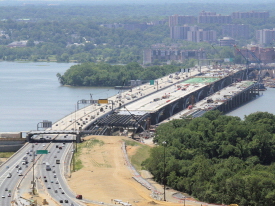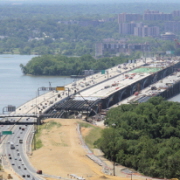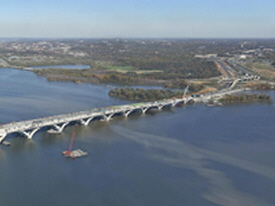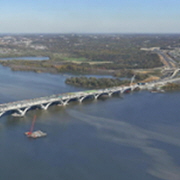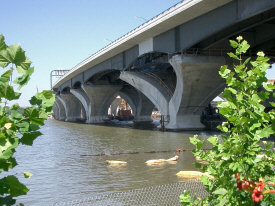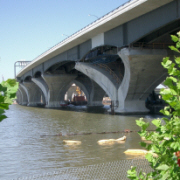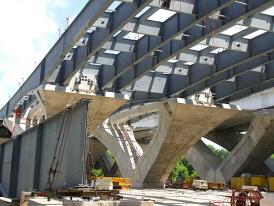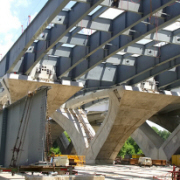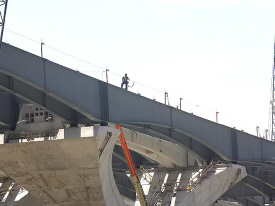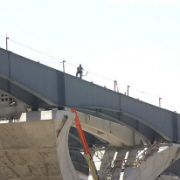 Woodrow Wilson Bridge, Maryland Approach Spans Prince Georges County, MD
The Woodrow Wilson Bridge Maryland Approaches project carries the Outer and Inner Loop of Interstates 95 and 495 over the Potomac River in the Washington, D.C. metropolitan area, connecting the bridge's bascule spans to the Maryland shoreline. The bridge features six lanes in each direction plus shoulders.
After an initial contract bid for the Woodrow Wilson Bridge came in above budget in 2001, the bridge's original haunched parabolic tub girder design was modified to a more economical haunched plate girder design, allowing the designers to keep the aesthetics of the original design while lowering fabrication and shipping costs. The bridge project was also split into three contracts.
Contract BR-3C for the Maryland Approach Spans was advertised in January 2003 and the notice to proceed was given in June 2003 to Potomac Constructors (a Joint Venture of the American Bridge Company, Edward Kraemer and Sons, and Trumbull Corporation) at $191 million.
High Steel was awarded the 20,900-ton fabrication contract for the steel superstructure, which makes it the second-largest project in the company's history. The project included detailing and fabricating over 700 girders as well as the associated stringers, diaphragms, plate diaphragms and miscellaneous parts. Shipping the steel to the jobsite involved 880 trips, with the last girder being shipped in May 2007.
The bridge construction is scheduled to be finalized by early 2009.
Project Specs
Bridge Type: Haunched Plate Girder
Steel Tonnage: 20,900 Tons
Steel Type: Grade 50
Coating: Painted
Project Team
Owner: Maryland SHA
Contractor: Potomac Constructors
Designer: Parsons Transportation Group
Detailer: High Steel Structures Inc.
Fabricator: High Steel Structures Inc.
Erector: American Bridge Company
Additional Info.
Visit the following links for more information about the project:
Woodrow Wilson Bridge Official Project Website
Structurae Website - Project Summary