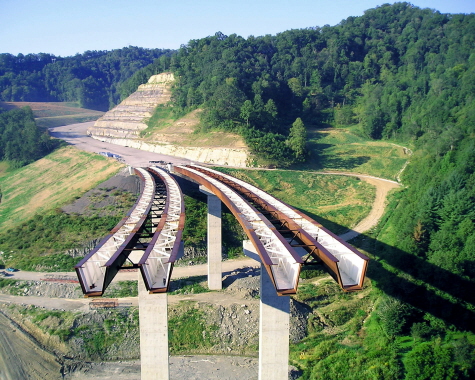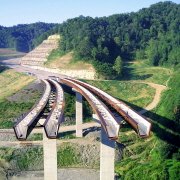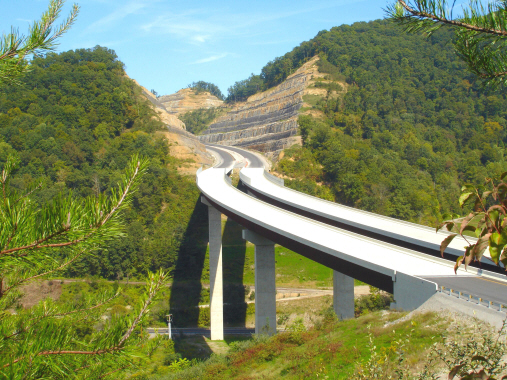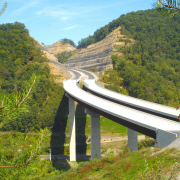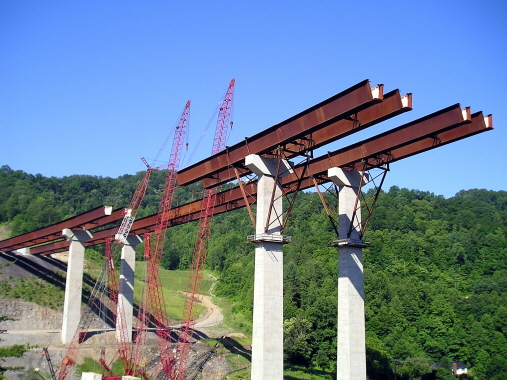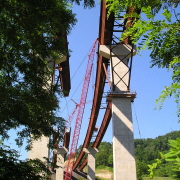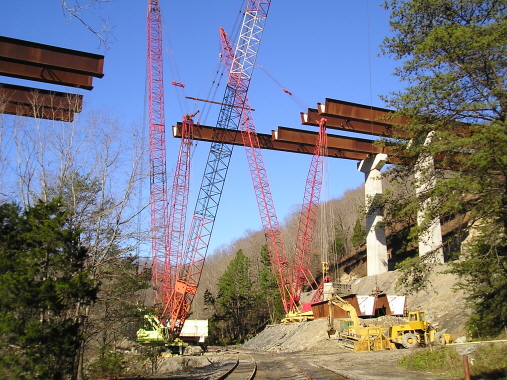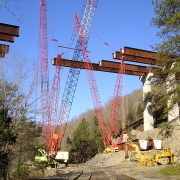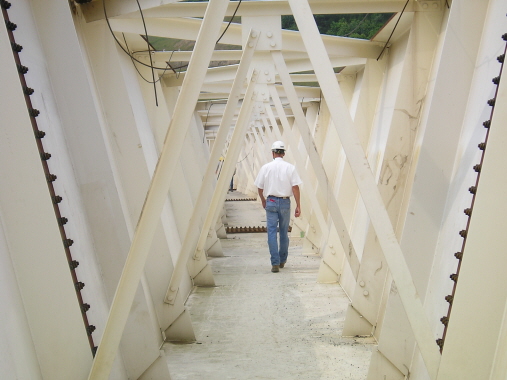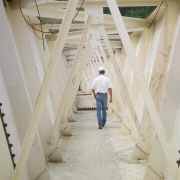 Raccoon Creek Tub Girders
Raccoon Creek Tub Girders
Raccoon Creek Tub Girders


Raccoon Creek Bridge, Pike County, KY
The Raccoon Creek Bridge in Pike County, KY is part of the new alignment of US 119, replacing a winding two-lane road with a modern four-lane expressway. The bridge, owned by the Kentucky Transportation Cabinet, was built by contractor Bush & Burchett and designed by Palmer Engineering.
The bridge, which spans 200 feet above the valley floor, posed numerous design and construction challenges requiring the designers to stretch the span lengths. The longest of the four spans crossing the 1,275 foot valley is nearly 400 feet.
Because of the curved geometry of the roadway, traditional I-girders would have resulted in excessive rotation of the bridge deck and potential deck cracking. The flexibility of the long girders and installation of cross frames would have also caused problems during erection. The designer and owner chose trapezoidal steel box girders as a solution that would provide greater resistance to this rotation.
High Steel was awarded the 4,953-ton contract to fabricate the 68 steel tub girders for the project. The girders, which are among the largest ever fabricated at High Steel, are 10 feet deep and 13 feet in width. The weight and length of the units – up to about a quarter million pounds each - required 13 axles under some of the largest loads.
Erecting the tub girders 200 feet above the valley floor with limited room for cranes presented challenges to the contractor. The erection sequence called for temporary girder supports called "angel wings." The supports, fastened near the top of the tall piers, created stable platforms for the girders and allowed for balanced cantilever construction. After completing the balanced cantilever portions from the piers, construction progressed with simultaneous drop-in girder sections.
The complexity of the project and creative collaboration among the project team in overcoming the obstacles involved have earned the Raccoon Creek Bridge two prestigious awards: the state level 2006 Grand Conceptor Award by the American Council of Engineering Companies (ACEC), and the National Award, Long Span, by the 2007 National Steel Bridge Alliance Prize Bridge Competition.
Project Specs
Bridge Type: Trapezoidal Box Girder
Steel Tonnage: 4,935 tons
Steel Type: Grade 50W
Coating: Painted interior
Project Team
Project Owner: Kentucky Transportation Cabinet
Contractor: Bush & Burchett
Designer: Palmer Engineering
Detailer: Tensor Engineering
Steel Fabricator: High Steel Structures, Inc.
Steel Erector: Bush & Burchett
Additional Info.
2007 NSBA Prize Bridge Award, Long Span - Raccoon Creek Bridge