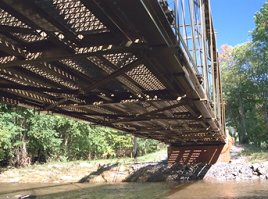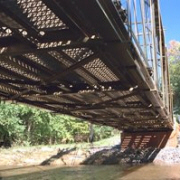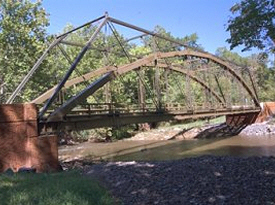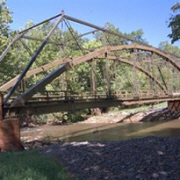 Gerloff Road Truss Rehabilitation


Gerloff Road Truss Rehabilitation, Montgomery County, PA
Originally constructed in 1888, this wrought iron Phoenix Pratt truss is listed on the National Register of Historic Places. When PennDOT found it to be in need of rehabilitation, they faced a major challenge in determining how to rehab the bridge without distracting from or disrupting the historic truss.
The alternative that was selected involved superimposing a steel-tied arch around and through the existing truss. The arch was designed to handle all of the live load, with the existing truss only carrying its own weight. Additionally, the existing timber deck was replaced with a lightweight steel open-grid deck. Deliberate measures were taken to ensure that the aesthetic value of the existing bridge was maintained by painting the truss and the arch two different yet complementary colors.
High Steel detailed and fabricated hundreds of structural steel pieces to construct the arch structure. The quality of the design and fabrication allowed the arch to come together with the proper fit as the High Steel Field Operations group erected the structure, and the end result is a completely independent arch structure that enables traffic to cross a previously closed bridge.
Project Specs
Bridge Type: Truss / Tied Arch
Steel Tonnage: 108 Tons (New Steel)
Steel Type: A572 & A36
Coating: Shop Primed, two field coats of paint.
Project Team
Project Owner: PennDOT
Contractor: McMinn's Asphalt Company, Inc.
Designer: Johnson, Mirmiran & Thompson
Detailer: High Steel Structures, Inc.
Steel Fabricator: High Steel Structures, Inc.
Steel Erector: High Steel Structures, Inc.