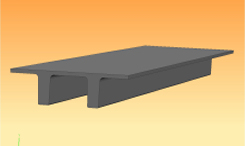 The NEXT Beam ("F" beam design)
A superior alternative to concrete box beams for 30' to 90' spans
The NEXT Beam is a new product offered by the High Bridge Team, a cooperative effort between High Steel Structures LLC and its supplier, High Concrete Group LLC.
NEXT Beam was developed by PCINE (Precast / Prestressed Concrete Institute North East) along with the Departments of Transportation for NY, CT, MA, VT, ME, NH, and RI.
NEXT Beam is a bridge double-tee with a 13" wide tee leg that is much stouter than those used in parking structures, for greater strength and shallower depths.
Designers and project owners will find the NEXT Beam is a superior alternative to traditional concrete box beams, providing improved durability, lower cost, easier inspection and rapid bridge construction.
The NEXT Beam is available in two designs:
• "F" or "Form" Beam - the top flange creates a form for the deck
pour
• "D" or "Deck" Beam – the thick top flange comprises the deck
Section properties:
• Depth – 24" to 36"
• Span range – 30' to 90'
• Beam width - varies from 8' to 12'
• Skew - up to 30 degrees with the present standard
For more information:
For the latest design guidelines and more information about the NEXT Beam please visit the PCI Northeast Website.