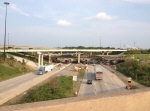 Emergency Replacement of Bridge at I-81 Interchange in Harrisburg
on June 10, 2013
Lancaster, Pa. - High Steel Structures Inc. of Lancaster, Pa., has been awarded a contract to fabricate 365 tons of structural steel for the emergency replacement of the bridge carrying Route 22 Eastbound into Harrisburg, PA at the I-81 Exit 67 interchange.
Shortly after 6 a.m. on Thursday, May 9, 2013, a tanker truck loaded with diesel fuel burned after overturning on the elevated ramp from Interstate 81 Northbound to Route 22/322 Westbound, shutting down the heavily traveled I-81 artery near Harrisburg, Pa.
Following inspections, the span of Route 22 Eastbound directly above the fire was determined to be in danger of collapse. Interstate 81 remained closed in the area of the interchange for several days while two spans of the bridge were removed and the debris hauled away.
Fabrication of the replacement girders for the bridge in Harrisburg has commenced, and steel delivery is scheduled for early August.
"High Steel's sizable technical and production resources enable us to react quickly when emergency projects arise," said company President Brian LaBorde. "We are pleased to support PennDOT and the project team as they work to get the new bridge in place."
High Steel has supplied steel for several other emergency projects involving fire-damaged bridges. In 1998, the company was hired by PennDOT to produce replacement steel girders for the Interstate 95 bridge over Chester Creek, south of Philadelphia, PA. Other projects include the Route 80 Bridge over Den Brook in Morris County, New Jersey, in 2001 and the 9 Mile Road bridge over Interstate 75 in Hazel Park, Michigan, in 2009. All three bridges were damaged as a result of fuel tanker accidents.