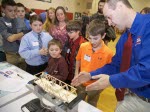 (Photo / K. Scott Kreider, LNP Correspondent)
Lancaster County students compete in STEM contests at technology conference
on February 13, 2018
From LancasterOnline
As wooden glider planes catapulted toward the ceiling of the school gymnasium, pairs of model dragster cars powered by carbon dioxide canisters raced along a double track nearby.
Across the gym, just past the balsa wood bridge models, a robot platypus came to life — its eyes glowing and tail and jaw moving.
Along the wall of the gym, a judge used a machine to test the weight-bearing properties of a couple dozen balsa-wood trusses.
These projects were part of the nearly 60 different competitions happening under one school roof Saturday as part of the Pennsylvania Technology Student Association's annual Region 2 conference. Read more