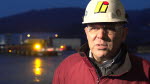 Ronnie Medlock, vice president, technical services discusses the "Superload"
High Steel Structures Ships Last Two "Superload" Girders to New New York Bridge
on March 07, 2017
High Transit Trucks Take Final 78-ton Girders From Williamsport, Pa. to Assembly Yard in N.Y.
March 7, 2017—High Steel Structures LLC has shipped the last two of the massive blue girders that have become emblematic of the New New York Bridge, the iconic span that will replace the Tappan Zee Bridge in 2018. At 7 a.m. two heavy-haul trucks with police escorts began the four-hour journey to the project assembly yard in Port of Coeymans, N.Y.
Twelve feet in height and up to 130' in length, each girder weighs about 78 tons. High Steel fabricated approximately 50,000 tons of steel to form the approach spans to the new bridge. High will ship 34 non-superload girders later this year; final pieces will deliver in spring 2018.
The trucks are specialty rigs equipped with lead-bearing jeeps in the front and steerable dollies in the rear. An escort driver controls the dolly by remote control to navigate curves, corners, tolls, and other obstacles the superload may encounter en route.
The $3.7 billion New New York Bridge is the largest transportation design-build project in the history of the United States, and High Steel's largest contract to date. "With fabrication largely complete, we are proud to say that we have hit every engineering and delivery milestone with outstanding quality," said Ronnie Medlock, Vice President of Technical Services.
Project Facts
High Steel Structures was contracted for approximately 50,000 tons of steel to support the approach spans of the New New York Bridge.

The contract value was more than $120 million, the largest in High Steel's history.

High Steel expanded its Williamsport facility to add capacity to serve the project.

High Steel added approximately 200 positions since beginning fabrication in 2014 as a result of the bridge project

"Superloads" are loads that are especially long, heavy, or wide and require police escort.

The "superloads" comprise a specially designed transport rig including a tractor, a jeep, and a steerable dolly. The largest weighs 130 tons and is 160 feet in length.

As of today High Transit has hauled 190 "superloads" to the project assembly yard in Coeymans, N.Y.

Work remaining includes 34 more girders to ship in 2017; a variety of other smaller members will ship in 2018.

Steel types used: ASTM A709 Grade 50W and Grade HPS 70W

Products: plate girders; sub-stringers; cross frames. All are painted with same three-coat system of organic zinc primer, epoxy intermediate coat, and a urethane top coat.