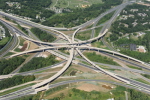 High Steel Structures Receives Award of Excellence for Interchange Bridge Project in Maryland
on October 28, 2011
High Steel Structures LLC received an Award of Excellence from the Maryland Quality Initiative (MdQI) at its 2011 annual conference in Baltimore. High Steel was recognized in the subcontractor category for the project located at the I-95 / I-695 Interchange: I-95 from Hazelwood Avenue to King Avenue and I-695 from Lillian Holt Drive to MD 7.


High Steel fabricated, delivered and erected more than 16,000 tons of structural steel for the project. The company's field operations group erected four large multi-span curved flyover bridges, some as high as 110 feet, and two straight plate girder bridges.


The I-95 / I-695 project is part of the Maryland Transportation Authority's multi-year, $450-million I-95 Express Toll Lanes project, which will ease traffic congestion by reconfiguring the ramps at the interchange and creating two fully directional interchanges, one an express toll lane and the other for general purpose traffic.


About the team and MdQI


The project was constructed by a joint venture between general contractors G.A. & F.C. Wagman Inc. of York, Pa.; Corman Construction Inc. of Annapolis Junction, Md.; and McLean Contracting Co. of Glen Burnie, Md.


The MdQI is a cooperative effort by Maryland's highway industry dedicated to the continuous quality improvement of the planning, design, construction, and maintenance of Maryland's highway system.


About High Steel Structures Inc.


Founded in 1931 in Lancaster, Pa., High Steel Structures LLC, an affiliate of High Industries Inc., is one of the largest fabricators of structural steel in North America, with more than one million tons of steel fabricated over the past 20 years. High Steel's™ 700+ co-workers fabricate a wide range of complex bridge components and heavy building girders, and the company offers bridge steel erection, transportation, and emergency bridge repair services. High Steel has been instrumental in the development of new, innovative processes and materials throughout its long history as an industry leader. The company is headquartered in Lancaster, Pa., and operates four fabrication facilities in Lancaster and Williamsport, Pa. For more information about High Steel, call 717.390.4270 or visit www.highsteel.com.