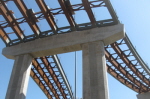 High Steel Delivers over 21,000 tons of Structural Steel for D.C. HOT Lanes Project
on October 20, 2011
Lancaster, Pa. (October 20, 2011)—In its largest single contract to date, High Steel Structures is providing the structural steel for the Washington, D.C. area HOT Lanes Project.


It is a massive undertaking for the Virginia Department of Transportation, Fluor-Lane, Fluor-Transurban and High Steel Structures, all in the name of relieving the chronic traffic congestion that has plagued the Washington, D.C. area's I-495 Virginia Capital Beltway.
The project involves building four HOV/HOT lanes, two in each direction, on a 14-mile stretch of the Capital Beltway between the Springfield Interchange and just north of the Dulles Toll Road. Completion is estimated for late 2012 or early 2013.
The project replaces more than $260 million in aging infrastructure, including 58 bridges. High Steel is fabricating more than 21,000 tons of steel plate girders. The company began steel erection in July 2009, which is continuing through the next year.


"Everyone here at High Steel realizes the importance of working on a project of this magnitude," says Ken Glidden, project manager for High Steel Structures. "From our engineering department that is responsible for shop drawing preparation, to our fabrication groups, to High Transit for the steel delivery, and the field operations area, which is erecting the steel, the team here at High Steel is working diligently to provide our customer with a quality product, in a timely manner."
The concept behind the HOT Lanes Project is to provide a fast-track alternative to traveling in the more congested lanes. The term HOT stands for High Occupancy Toll lanes, which are tolled lanes that operate alongside existing highway lanes to provide users with a faster and more reliable travel option.


"It is an honor to be involved in a project that will have such a huge impact on the traveling public in an area that has so much traffic congestion. When the HOT Lanes are completed, the daily commute for thousands of people should be greatly improved," says Glidden.
JUST THE FACTS:

Steel: 21,500 Tons of Steel
Project: HOV/HOT lanes on the Capital Beltway between the Springfield Interchange and Dulles Toll Road
Total Project
Design/Build: Fluor-Transurban and Fluor-Lane, LLC
Steel
Fabricator/Erector: High Steel Structures Inc., Lancaster, Pa.
Start date: July 2008
Estimated completion: Late 2012 / early 2013

To read more about High Steel's projects, take a look at High Steel Structures' project gallery.