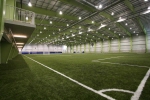 The Hershey Sports Zone
Hershey Centre Sports Zone in Ontario is Complete
on November 05, 2007
Hershey Centre Sports Zone in Ontario is complete
Monday, November 05, 2007
Contact: Bruce Bortree

Steve Bussanmas


Marketing Director

Senior Vice President Sales and Marketing


Butler Manufacturing

High Steel Structures Inc.


717-867-3293

717.390-4270


BLBortree@butlermfg.com sbussanmas@high.net
Annville, Pa. (November 5, 2007) – Butler Manufacturing of Annville, Pa., announces that another of its massive steel structures, this one for the Hershey Sports Zone in Mississauga, Ontario, is complete. Butler designed the pre-engineered building system for the 84,000-square-foot indoor soccer/multi-use facility. Design-build firm Trumbley & Hampton of Mississauga, a partner in Butler's network of certified builders, led the charge on site by supplying major components and performing erection of the building.
The structure, comprising 570 tons of steel, includes a viewing balcony, translucent panels for abundant natural light, and a Butler MR-24 roofing system with efficient R20 insulation. The decision for a pre-engineered system was made in large part due to the ability of such structures to span large areas, to offer faster construction than traditional building methods, and to provide greater overall lifecycle value. The Butler Buildings structure easily met the design requirement for a 228' clear-span, column-free width and 58' peak height.
Two Central-Pennsylvania Innovators Collaborate
For the second time, Butler called upon bridge fabricator High Steel Structures Inc. of Lancaster, Pa., to complement the capabilities of its locally based design-build firm by fabricating and transporting the larger components of the project, 26 fabricated columns and 26 fabricated roof beams weighing a total of 292 tons. The components were prime-painted and shipped from Lancaster late last year in thirteen 23-ton loads. A similar collaboration announced earlier this year resulted in delivery of an indoor practice facility for the U.S. Army Athletics Department at West Point, New York.
Sports Zone and Hershey Centre
The newly built Sports Zone, part of a $38 million expansion of the Hershey Centre, is home to the Hershey Centre Sports Zone Indoor Soccer League, Gymnastics Mississauga, and the Mississauga Minor Basketball Association. The Hershey Centre, named for Pennsylvania-based The Hershey Company, includes a state-of-the-art multi-purpose arena that is home to the Mississauga St. Michael's Majors of the Ontario Hockey League and several other clubs.
About Pre-engineered Buildings
Pre-engineered buildings are designed and engineered to meet each building owner's individual requirements, with steel components pre-fabricated and partially assembled off-site and then transported to site for erection. Pre-fabrication and assembly means erection on site is significantly faster and easier than the process for conventional buildings. Pre-engineered buildings are suitable for a wide range of non-residential building applications, including factories and warehouses, showrooms, sporting facilities, aircraft hangars, schools, churches, and medical clinics.
About Butler Manufacturing and BlueScope Steel
Butler Manufacturing is the world's leading manufacturer and provider of pre-engineered steel building systems. As such, the company has more than 100 years of experience manufacturing steel structures. Butler Manufacturing was acquired by BlueScope Steel Limited (ASX: BSL) in 2004. BlueScope Steel (formerly known as BHP Steel) is the leading steel producer in Australia and New Zealand, supplying a large proportion of the flat steel products sold in these markets. BlueScope Steel's principal customers are in the building and construction, automotive, packaging and general manufacturing industries. The Company's steelworks at Port Kembla is Australia's largest and one of the world's lowest cost producers of hot rolled coil. Steel rolling, coating and painting plants are located in Australia, New Zealand, Thailand, Malaysia and Indonesia, with further plants being constructed in India and Vietnam. The company has a network of steel building products roll-forming facilities across the Asia Pacific region that is unmatched by any other steel company. For more information about Butler Manufacturing, visitwww.butlermfg.com.
About High Steel Structures Inc.
Founded in 1931 in Lancaster, Pa., High Steel Structures Inc. is one of the largest fabricators of structural steel in the United States, with more than one million tons of steel fabricated over the past 20 years. High Steel Structures' 700+ co-workers fabricate a wide range of complex bridge components and heavy building girders, and the company offers bridge steel erection, transportation, and emergency bridge repair services. High Steel Structures has been instrumental in the development of new, innovative processes and materials throughout its long history as an industry leader. The company is headquartered in Lancaster, Pa., and operates four fabrication facilities in Lancaster and Williamsport, Pa. For more information on High Steel Structures, call 717.299.5211 or visitwww.highsteel.com.