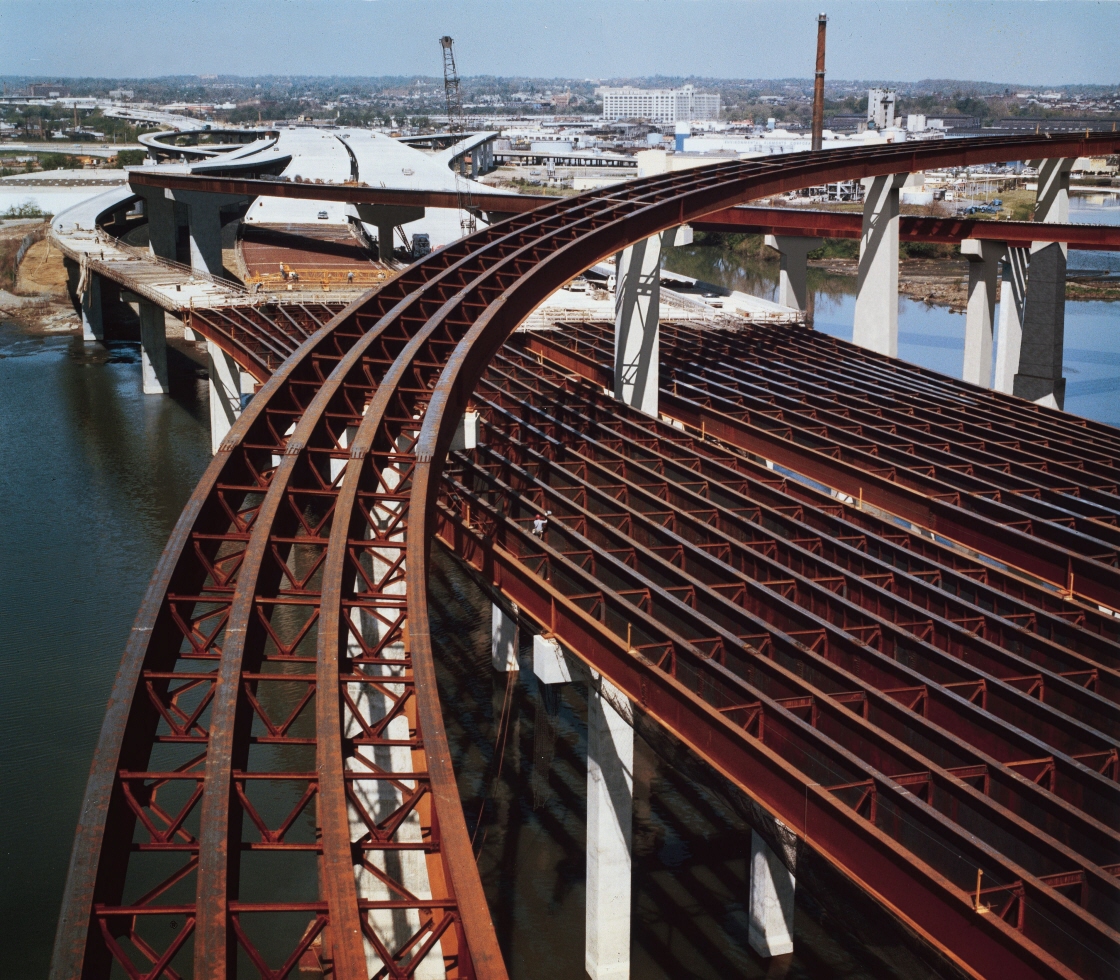 The I-95 / I-395 Interchange in Baltimore, MD was completed in the mid-1970's.
"Giving Good Measure" Since 1931
High Welding Company founder Sanford High began lobbying the Pennsylvania state highway officials in the 1940's to promote welding of steel bridges as an alternative to riveting. By the late 1950's the use of welded girders evolved and the company was ready to respond to the demand, using newly acquired automated equipment. Through the interstate building boom of the 1960's, the company continued to grow, supplying steel to a great number of bridges in Pennsylvania and the surrounding market area.
In 1971, the company's name was changed to High Steel Structures to more accurately reflect its position as an industry leader in structural steel engineering, fabrication, and erection. Since then, through good economic times and bad, High Steel has continued to grow using the guiding principle, "Give Good Measure." Investments in advanced technology, capital assets, and new products and services are all reflections of the company's dedication to quality.
History Timeline
1931 - Sanford and Benjamin High purchase King Welding company in Lancaster, PA. Company name is changed to High Welding Company.
1933 - High Welding completes its first experimental bridge welding project, welding angle iron stiffeners for a bridge near Stewartstown in York County, PA.
1946 - Contract is received for the reflooring of the Belvidere bridge over the Delaware River - the Company's first major project involving fabrication and erection of structural steel.
1954 - Plant One was constructed.
1958- Company purchases automated welding equipment. Interstate building boom begins. First welded girder bridge completed, I-83 at Shawan Road in Maryland (still in service today).
1967 - 1969 - Plant Two was constructed and expanded.
1970 - High Welding received 8,000-ton contract for the Columbia-Wrightsville Bridge carrying Route 30 over the Susquehanna River near York, PA.
1971 - Company name changed to High Steel Structures, Inc. First heat shrink curved girders fabricated for Maryland State Highway Authority.
1976 - High teams with contractor G.A. and F.C. Wagman on the 17,000-ton I-95 / I-395 Interchange spanning the Middle Branch of the Patapsco River in Baltimore, Maryland.
1979 - High Steel helps to pioneer testing criteria and controls for "fracture critical members" for Interstate 95 over the Harbor Tunnel in Baltimore, MD.
1983 - High Steel receives first OSHA Star designation, recognizing excellence in its occupational health and safety program.
1985 - Paint Bay added to Plant 2. High Steel acquires assets of Williamsport Fabricators, which becomes Plant 3.
2000 - High Steel expands Plant 3 in Williamsport, PA, doubling the facility's size. Lancaster fabrication facilities certified for OSHA Star VPP Status. High Steel awarded 10,800-ton contract for the Springfield Interchange, Phase 4 at I-95, I-495 and I-395 in Fairfax County, Virginia.
2001 - High Steel awarded 28,000 ton steel fabrication contract for Arthur Ravenel, Jr. Bridge over the Cooper River in Charleston, SC, the largest in the company's history.
2003 - Lancaster fabrication facilities recertified for OSHA Star VPP status. Lancaster Quality Management System registered to ISO 9001:2000. High Steel awarded 20,900 ton contract for the Woodrow Wilson Bridge project, Maryland approach spans.
2004 - Williamsport fabrication facilities cited as winners of the Pennsylvania Governor's Award for Excellence in Safety, also know as the PENNSAFE award. Williamsport Quality Management System registered to ISO 9001:2000.
2006 - High Steel awarded 16,524 ton contract for the I-95/I-695 Interchange, Phase 1, in Baltimore, MD.
2007 - Williamsport fabrication facilities certified for OSHA Star VPP status.
2008 - High Steel awarded 19,400-ton contract for I-495 HOT Lanes in Fairfax County, VA.
2013 - High Steel awarded 50,000-ton contract for the approach spans of the New NY Bridge (Tappan Zee) in Rockland County, NY
2015 - Our company founder, the late Sanford H. High, was inducted into the ARTBA Foundation'sTransportation Development Hall of Fame.