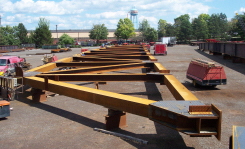 A truss is set up in the yard to test fit.
Getting it done right the first time.
High Steel's technical capabilities are comprehensive. With three registered Professional Engineers among its staff of over 40 coworkers, our Engineering Department prepares shop detail drawings, using sophisticated bridge geometry software in a proprietary computerized bridge program. Engineering also teams with Field Operations to prepare erection procedures.
We are industry leaders in generating CNC data using associative CAD/CAM software, which improves accuracy while decreasing process time. Our document control system tracks and records all shop drawings and drives our digital printing system.
Our Quality Control Department staff of certified welding inspectors and techicians are trained in all forms of non-destructive weld testing.
AISC Certifications
Major Steel Bridges (CBR)
Simple Steel Bridges (SBR)
Fracture Critical Endorsement (F)
Advanced Certified Steel Erector (ACSE)
Sophisticated Paint Endorsement-Enclosed (P1)

Canadian Welding Bureau Certification
CWB Division 1 certified to
CSA Standard W47.1 and A660-10