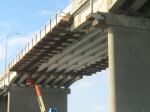 on November 25, 2009
Lancaster, Pa. (November 25, 2009)—High Steel Structures LLC of Lancaster, Pa., and McLean Contracting of Glen Burnie, Md., have been noted for a "heroic effort" by editors at The Daily Times (Salisbury, Md.) for their competent and efficient execution of critical structural repairs to the Rt. 90 bridge in Ocean City, Md., that was closed October 15.


The $1.1-million repair completed by these two private companies for the State Highway Administration was finished ahead of schedule and under budget. The 38-year-old bridge was discovered to have deteriorated at its center, 85-foot-wide channel-crossing span, and is crucial to travel and commerce in the region. Repairs to the superstructure were expected to be completed by December 15. With "diligent, around-the-clock efforts—even in the middle of the worst coastal storm in years—[the two companies] got the job done," according to an editorial in The Daily Times online edition.


A link to an editorial posted on The Daily Times website, www.delmarvanow.com, is available here:http://www.delmarvanow.com/article/20091125/OPINION01/911250412/-1/newsfront2/Good-news-on-Route-90-bridge